Even under the best circumstances, parenting young kids is challenging. They are physically very capable–they can run, climb (on everything), stack, play, etc. However, emotionally, they are still very immature. They aren't very rational, they lose emotional control easily, and their moods switch so fast it will give you whiplash. This is just life as a young child and it's totally developmentally appropriate. After days (or weeks) of being at home with your kids you may find yourself losing your patience, maybe even yelling at them. We all know that yelling at kids does not work (and makes you feel awful), but what is a parent to do? Parenting research can help us but we also need an action plan in place. Parenting without yelling is possible but it requires intention and having a few other options in your repertoire.
This post contains affiliate links. Purchasing through these links provides a small commission to me (at no added cost to you).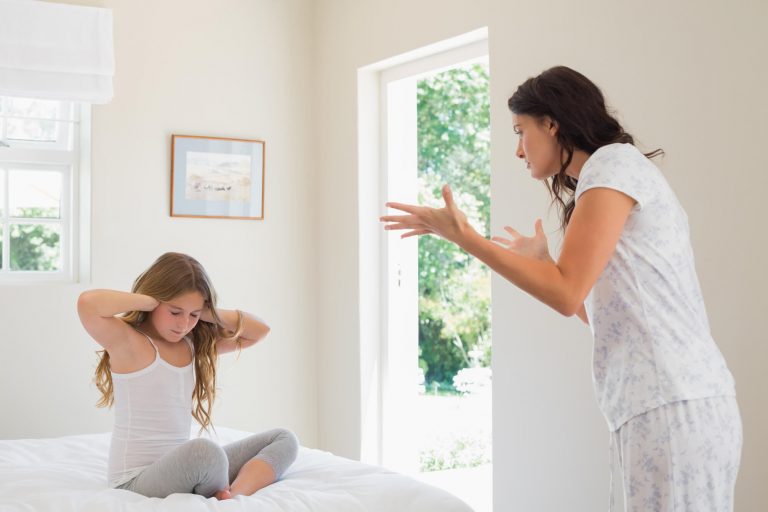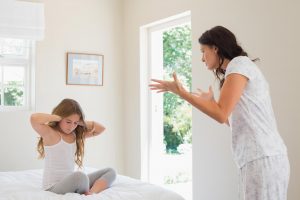 Why Do I Lose My Temper with My Child?
Let me tell you, you are not alone. You're not crazy. It can be very challenging to be patient with kids of any age. You may find yourself yelling at your kids and not understand why. Parenting without yelling is a goal to move toward but the first step is understanding why you are losing your patience.
Self-care has probably taken a backseat
Most of us don't care for our own needs the way we should. Let's face it, our primary instinct is to put our children's needs first. When we do have a few minutes to ourselves, we may find it hard to rest (or sleep) or feel pressured to stay up late to catch up on work.
Anxiety is Draining
Although on a daily basis at home with our kids we may not feel overly anxious, sometimes worries creep in. We may find ourselves worrying about our child's well-being, our parenting strategies or just trying not to forget some event on the calendar.  This undercurrent of anxiety wears on our brains and our patience after a while. Research shows that, although we may physically be doing the same activity each day, anxiety is actually very taxing on our brains.
Being "on-call" all the time is exhausting
All this is on top of the level of anxiety and hyper-vigilance we usually have as parents. As this article points out so well, having a young child means you have to constantly be aware of potential hazards, falls, accidents, etc. All these conditions combine to make you utterly exhausted by the end of the day. You may find yourself yelling at kids more because you are simply worn down.
Think your child might be going through a growth spurt? Check out this kit to help you navigate this challenging phase with confidence!
How to be a Better Parent Without Yelling
None of us start out in parenting thinking we will be one of those parents who yells at their kids. Even if you have been a parent for only a couple of years, you've probably realized that yelling doesn't work. Although I can cite research showing why yelling doesn't work due to the anxiety-provoking effect it causes, you know from experience that yelling at kids usually just ends up with everyone in tears. The question that remains is: how to be a better parent without yelling. Here are a few ways to start:
Put limits on behavior, not emotions
One key I've learned in recent years about positive parenting is the distinction between putting boundaries on behavior, not emotions. Kids can have really big emotions. Heck, on any given day, we grownups can have big emotions too.
The real point is that to help kids learn emotional self-regulation, they have to be able to express their emotions. Allowing them to express emotions (even the unpleasant ones) is challenging as a parent. We don't really like it when our kids get angry or cry or meltdown. However, in allowing emotions, we are also opening up space to teach them how to cope with big emotions. On the other hand, if we punish or disregard emotions, they end up learning to stuff them down and hold them in. Ultimately, this puts kids at higher risk for anxiety and other issues later in life.
Related reading: Toddlers Have Big Emotions. Insight from Research on How to Respond
Finding the distinction between behavior and emotions can be tricky. Especially with young kids, the big emotion often leads to unpleasant behavior almost immediately. For example, your toddler might be upset at his brother for taking a toy and immediately hit him. Separating out the anger from the hitting is one key to positive parenting. We can explain that it's normal to feel angry but it's not okay to hit.
Action step: Focus on correcting or offering alternatives to behavior that is "out of bounds" rather than emotions. For example, you might say, "let's talk about a different way to express your anger rather than hitting." You could provide other options like going outside, running up and down the stairs, etc.
Teach self-regulation skills
Teaching self-regulation skills ties in with the issue we just discussed. Intentionally teaching kids how to manage big emotions is a life skill they will use forever. Although kids often struggle with big emotions, we can be role models to help them understand emotions and deal with them. 
One step is to simply discuss emotions as a normal part of conversation when kids are calm. You might read books about emotions or play games that discuss emotions. Here are some great examples of toys and books for emotional development.
Secondly, you can teach self-regulation skills like breathing techniques, sensory items, or exercises that may help your child calm down when upset. See this lovely example: Reducing Toddler Tantrums
Action step: Try incorporating one self-regulation activity into your life that can help kids calm down. This could be a calming corner, a calm-down jar, breathing exercises, or physical activities that promote self-regulation. You will probably see that once your children have some other skills to cope with big emotions, you will find yourself yelling at kids much less.
View behavior as communication
Another valuable skill I've learned from my positive parenting friends is the idea that kids' behavior is a form of communication. This mindset shift will completely change how you look at your child's behavior and can help make parenting without yelling a reality.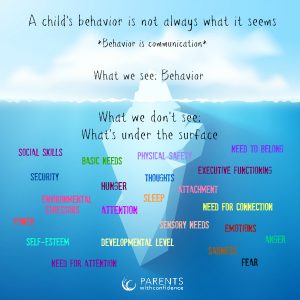 Instead of seeing misbehavior as "acting out" or as your child trying to intentionally push your buttons, dig deeper and try to uncover the real meaning behind the behavior. Could your child's anger and yelling really be a sign that they are anxious or overwhelmed? Could your child's lack of emotional regulation just simply be a skill that they haven't yet developed? For very young children, misbehavior is often just a sign of a physical need that they cannot yet express well. A toddler who melts down easily is often just a sign of fatigue or a growth spurt.
Action step: The next time your child acts in a way that you would consider misbehavior, take a moment to consider what else might be going on. Is she sad about something? Is he hungry, tired, overstimulated, etc.? Dig deep to see what need might be the root cause of this behavior. Parenting without yelling becomes more possible once you understand the real cause of children's behavior.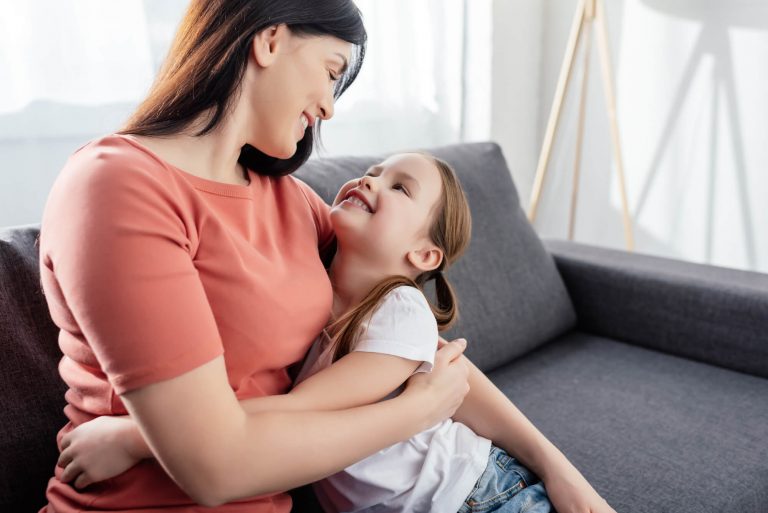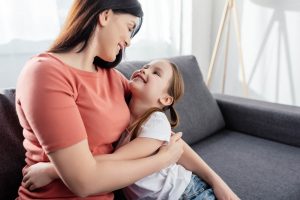 Pick your battles
You have probably heard the phrase "pick your battles" many times, but I think there is still some truth to it, especially with young children. If we wanted, we could try to correct a hundred things about our children's behavior each day. On any given day, these issues might include poor table manners, mismatched clothes, a messy room, fighting with siblings, yelling, etc. While all these issues may be on our "perfect parent" blacklist, we have to carefully consider which of these issues really matters to us. When we consider the type of adult we want our child to grow into, which of all the issues do we really value most? These are the issues we focus on correcting or discussing with our kids. The lower-priority issues will hopefully develop later but you've decided to focus most of your time on these important issues.
Action step: The next time your child does something that "pushes your buttons" stop for a moment to consider if correcting this is a high-priority issue or if you can let it go. Letting it go doesn't mean you never discuss that issue, it just means you've chosen to value the relationship with your child over nit-picking every little annoying habit. This is one simple step to begin parenting without yelling.
Find your triggers
This one is huge! I never knew I had triggers that could set off an emotional storm until I had kids. What are the triggers that really make it difficult for you to be patient or kind with your kids? Triggers are often issues or feelings that underlie the anger. It might be an underlying worry that your child's behavior brings up for you, disappointment, feeling out of control, your child's behavior reminding you of someone you dislike, underlying sadness, etc. This article from one of my blogger friends is excellent for explaining triggers. 
One common trigger I've found among toddler parents centers on having expectations for behavior that are not really developmentally appropriate. For example, if a parent expects a toddler to sit quietly in a waiting room for a doctor's appointment and not investigate everything in the room, they will likely get upset when the toddler is unable to do this. However, this expectation is not developmentally appropriate. Most toddlers will be climbing on and investigating (i.e., destroying) everything in the room in a matter of minutes. 
Action step: The next time you find yourself getting upset at your child, see if you can uncover the underlying trigger. Sometimes it is not really possible to do this until after the fact, but it can help prevent yelling the next time a similar situation arises. This takes a bit of self-reflection but if you can discover some of your triggers, it will help reframe your child's behavior in a new light and help make parenting without yelling possible.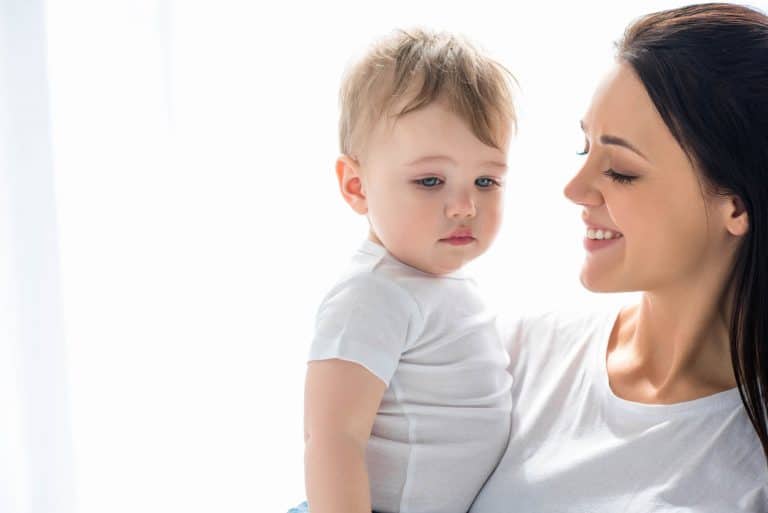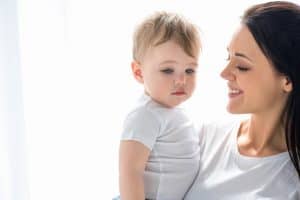 The bigger picture of parenting without yelling is that we are modeling for our children the behavior we would like them to learn. If we can remain calm, they are much more likely to learn self-regulation by our example.
It's also helpful to remember to be kind to yourself. Self-compassion is key. We are all human. We make mistakes and yell at our kids or make choices we regret. Beating ourselves up over these mistakes doesn't help our parenting. In fact, new research is starting the show the benefits of self-compassion for parents. In one study, parents who practiced self-compassion exercises indicated they felt less stressed over time.
However, it might also be an opportunity to stretch and grow as parents in ways that will leave us better equipped for the next challenge.
Need more help? Sign up for this Free hand-out: 5 Ideas to Remember During a Tantrum.
Research-backed tips for coping with tantrums while fostering emotional skills in your child
Related Resources: