Sneak peek: As a child development writer (and mom!), I read a lot of parenting blogs. These are some of the best parenting blogs I've found to help keep you inspired, learning and growing as a parent,
Parenthood is the only "job" which involves no formal training, very little background knowledge (for most of us) and the "outcome" involves the people we value most (our kids). However, most of the best parenting blogs I've seen also know that parenting cannot really be equated to a job
, either. It is a relationship, as unique and special as your relationship with your spouse or best friend. As with any long-term relationship, it can have its ups and downs. Add to that the fact that children are still developing their social-emotional skills which makes the relationship trick at times.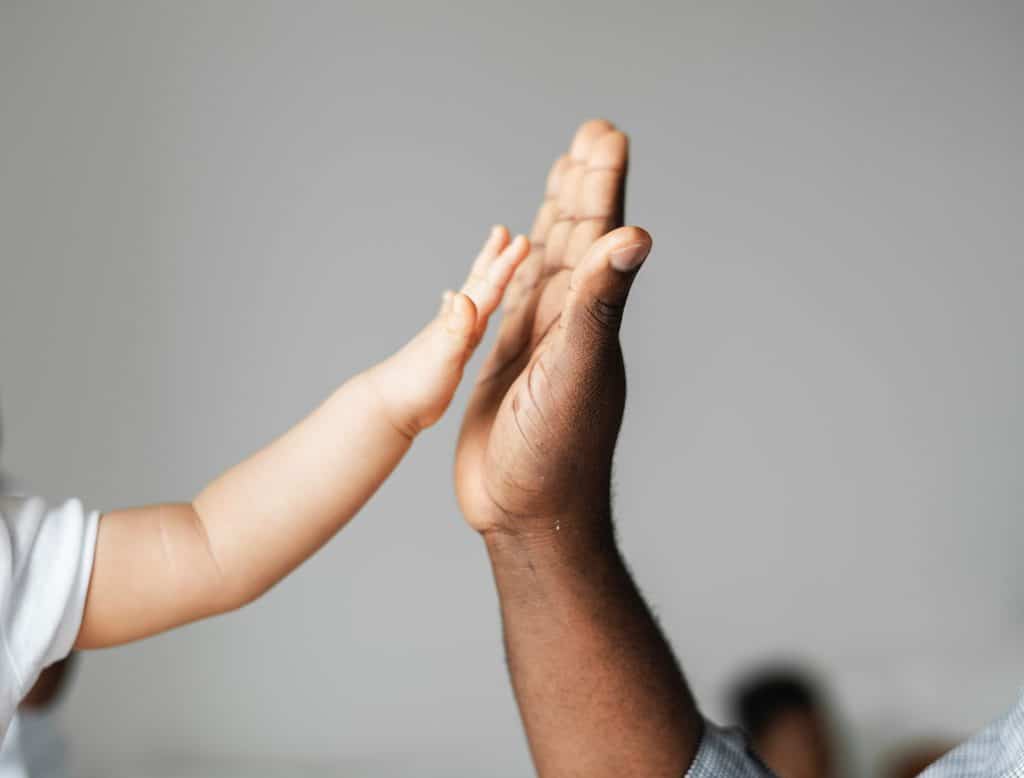 All this is to say that to thrive in parenthood you need a tribe–fellow parents who have gone down the road you are traveling and can point out the bumps in the road or at least sit by you and help you buckle your seat belt.
Since I am a blogger, I have found support, encouragement, and best parenting advice from parenting blogs along this journey. Today I'm sharing some of the top parenting blogs that offer real, concrete, parenthood-is-messy-but-worth-it articles and advice.
**This post contain affiliate links. Purchasing through these links provides a small commission to me. This helps support this blog at no cost to you.

General Parenting Blogs and Thoughtful Commentary
These parenting blogs offer thought-provoking articles and useful hands-on tips. As a bonus, many are also based on research, which I always appreciate.
Nuture and Thrive: research-based positive parenting ideas from a developmental psychologist. You can't beat that. Great, thoughtful parenting blog articles.
Parents with Confidence: need help fostering emotional intelligence or a growth mindset in your children? Then this blog is the place to start. Angela also offers tons of good positive parenting articles on topics like raising strong-willed kids, coping with the toddler years and positive discipline.
Imperfect Families: we are all imperfect parents but this blog gives us hope that we can raise good kids, despite our imperfections. Nicole is a licensed therapist who offers meaningful, real-life advice in a thoughtful way.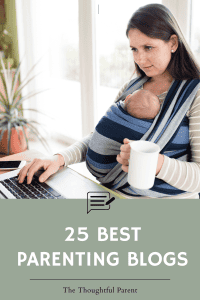 Parenting from the Heart: this remains one of my go-to blogs for research-based positive parenting tips. The writing is very approachable with a lot of real-world examples.
Not Just Cute: Amanda is a scholar after my own heart–trying to bring research into the lives of the people who really need it. I even love the name of her blog. She says childhood is not just cute, it is powerful and priceless. I couldn't agree more.
Janet Lansbury: if you are not familiar with RIE (Resources for Infant Educarers) then check out Janet's site. It focuses on a thoughtful, insightful parenting approach that focuses on seeing the infant as a whole person from the start. One of my favorite parenting blogs that focuses on the early years.
Regarding Baby: another wonderful RIE site hosted by Lisa Sunbury, an early childhood educator. Her writings will give you insight into focusing on your parenting relationship and slowing down to understand your child.
Want to learn more about positive parenting? Need actionable ideas for how to discipline without yelling? Sign up for this FREE download: Positive Discipline Scripts to Help Set Boundaries (and Build Emotional Skills)



Happy You, Happy Family: Kelly describes herself as a reformed perfectionist and everything here is real life and real solutions. If you are ready to ditch the idealized notion of parenthood and be real, this is a good place to start. Kelly offers great ways to reconnect with your kids.
Science of Mom: if you ever wonder if some article or post you read about a parenting hot topic is based on any science at all, you should check this site first. Alice is the best at searching out the real science behind common parenting issues.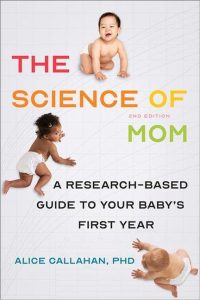 The Art and Science of Mom (with Emily Edlynn, Ph.D.): I met Emily through a blogging group and we found common ground easily. Both mama Ph.D.s trying to bring research to the average parent through a sea of misinformation out there. Her work is relatable, backed by research and practical.
Parenting Science: I've come to appreciate this blog more and more over the years. Anytime I need a quick refresher on a developmental issue, I can always count on good info from this site because it's run by an evolutionary anthropologist.
Discerning Parenting: I met pediatrician Victoria Ang-Nolasco a few years ago and though we live across the globe from one another we found common ground quickly. Her realistic, research-backed approach to parenting is not only super helpful but being a pediatrician she also has tons of experience with kids. A must-read, especially for the toddler and preschool years.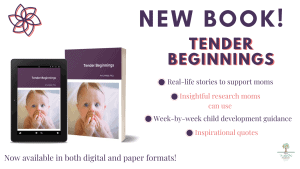 Best Parenting Blogs for Specific Aspects of Child Development
These parenting blogs focus more closely on specific areas such as physical, emotional or cognitive development
The Inspired Treehouse: run by two pediatric physical therapists, this site offers a wealth of ideas and activities that can help parents understand their child's physical, cognitive and emotional development
Hey Sigmund: if you need help understanding your child's emotional needs, this is where to start. This site discusses a lot about children's emotional life including anxiety and stress. It's a wonderful resource for understanding our own mental health too.
AT Parenting Survival: This wonderful site is all about parenting kids (from toddlers to teens) with anxiety. Written by a child therapist who specializes in helping kids with anxiety and OCD, it is packed full of awesome resources. Natasha provides advice and support backed by years of research and training.
Mama OT: another great site whose goal is to share knowledge of occupational therapy with the rest of us. Great information for understanding all children's development, including playful learning activities, fine and gross motor skill development.
Related reading: Emotional Intelligence in Children: How to Develop those Crucial "Soft Skills"
Lemon-Lime Adventures: I've been following Dayna's work for several years and I find myself recommending her parenting blog to anyone who finds their kid's behavior challenging. Her blog is especially helpful for parents of kids with sensory processing issues. She is a pro at helping parents see their kids' unique superpowers and hidden strengths beneath the surface. Great, inspiring work!

Education/Learning Activity Blogs
Even if you are not a homeschooling family, these blogs offer learning ideas to enrich your child's education. As parents, we are still the first and best teachers of our kids.
What We Do All Day: if you are a stay-at-home parent, you have probably gotten this question, "what do you do all day?" Well, this is the site for you. Wonderful book recommendations, real hands-on activities that are meaningful and not just fluff.
Imagination Soup: if I'm looking for any resources related to kids' literacy, book recommendations, or gift ideas, this is my go-to site.
Related reading: Surprisingly Helpful Calming Activities for Super-active Kids
Totschooling: if you are like me and spend most of your days with a toddler or preschooler, you know that you often need some activities to keep their little hands busy. This site has loads of cool printables (mostly free!) that you can easily prepare for the kids to do.
Enjoy this article? Support this blog on Ko-fi (it's like buying a cup of coffee for your favorite creators)
No Time for Flashcards: we all know that play is the best learning activity for little ones. This site is awesome at giving us ideas for crafts and learning activities.
Seeme and Liz: do you see the theme of play being big on this list? This site continues that theme. Great playful learning ideas and resources, especially for the young crowd.
Kids' Nutrition and Healthy Eating Blogs
Getting kids to eat something besides chicken nuggets and mac and cheese is often a struggle. These sites offer hope to us that there are healthy options that kids will actually eat.
Super Healthy Kids: I have found tons of good recipes on this site. They also have meal plans and cool healthy eating plates to help kids learn what they should eat to keep their bodies healthy.
100 Days of Real Food: another go-to site for me. If you need to expand your child's lunchbox menu, there are a lot of great ideas here. Plus, Lisa just came out with a cookbook so you can have all your favorites in one spot.
Weelicious: this site hardly needs an introduction since it's been featured in magazines and television. Wonderful kid-friendly food ideas, even for babies and toddlers.
Chime in!
What are your favorite parenting blogs? (besides this one of course 🙂 Let me know in the comments!