Sneak peek: Parenting strong-willed children comes with its own unique set of challenges. By focusing on children's strengths and having an eye toward the future, you can begin to feel more confident.
"It's not a bug, it's a feature." If you read the previous article in this two-part series, you know that this quote has become my new motto for understanding and parenting strong-willed children. As we discussed in the last article, this quote originated from software programmers years ago who, upon finding an unexpected behavior of their software, would exclaim, "it's not a bug, it's a feature."
This quote, although halfway comical, immediately made me think of children, especially strong-willed children. In our culture, strong-willed children are often seen as a "bug" to be fixed or a glitch in the world of human behavior. In contrast, I've come to see strong-willed children (and much research backs this up) as uniquely equipped to face the world in a different way. Yes, their strong-willed nature can be challenging for parents (to say the least!) but it can also be a gift if you learn to see it in a new way.
Strong-willed children can be extremely persistent, prone to non-compliance and likely to experience big emotions (in sometimes not-so-pleasant ways). However, they are also often fearless leaders, confident, strong friends and quick to remedy injustice. We need these gifts in our world today and in the future. With careful guidance and firm boundaries (yes positive parenting includes boundaries!), strong-willed children have the potential to be the ones that lead confidently in the future and help remedy some of our biggest social challenges.
To get them to that point, we need to approach parenting strong-willed children with an eye toward their strengths instead of just focusing on the challenges. One way to start is by dispelling a few myths about strong-willed children.
Related reading: Common (but Unhelpful) Myths About Strong-Willed Children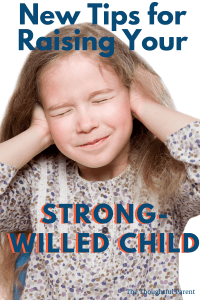 More Myths About Strong-Willed Children
Myth #1 They're intentionally being difficult or pushing your buttons
This is probably the most common myth I hear about parenting a strong-willed child. While, of course, there may be moments when strong-willed children do something to intentionally push parents' buttons, overall this is not the case. Much of their behavior is simply a reflection of their temperament; they are not trying to be difficult.
Strong-willed children often have very strong feelings about…well, everything. In that context, it's easy to see why they often conflict with parents. They have strong feelings about any choice that is being made for them–clothing, activities, school, friends, etc. Kids with a strong-willed temperament also usually have a strong sense of justice–they want things to be fair; not just for them but for others as well. This often sparks conflict with others or with parents because, let's face it, life isn't always just or fair.
Lastly, strong-willed children often come wired with some very intense emotions. In any given situation, they are likely to react with much greater intensity than other children. This is not usually them trying to be difficult; they are just wired differently. They feel things more intensely; their reactions are more dramatic.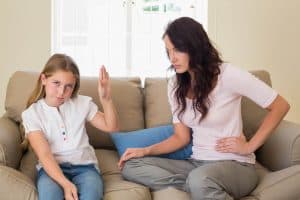 How to handle a strong-willed child:
Focus on their strengths. Seeing these temperamental traits as strengths, rather than annoyances, can go a long way toward parenting strong-willed children with a bit more grace and patience. Look for the upside of any trait or behavior pattern you find difficult. It can be hard to find at times but keep looking, I bet you'll see it.
Focus on how this temperament will help them later. One day as my son was persistently asking me (again) to do something he wanted to do, it hit me. This level of persistence can be a real asset in the future! When he's a teen and his friends are pressuring him to do something less-than-stellar (e.g., driving fast, drinking, etc.), this persistent nature can really help him. He has the persistent nature to resist these pressures again and again. The key for parents is to help our strong-willed children use these traits in a positive way. As I always tell my son, "use your powers for good, not bad!" I say it halfway jokingly, but I think there is some truth here in not trying to crush our children's spirits, but instead guiding them to use their unique traits in useful ways. 
Channel their spirit into something they are passionate about (e.g., a cause, sports, activities, helping others, etc.). Most strong-willed children have big passions. It might take them a while to discover them, but once they do, watch out! Strong-willed, persistent, spirited children have the traits needed to pursue a passion with fervor and determination. Encourage your child to explore different activities or hobbies that they find interesting. Who knows what magic might happen when they find their passion?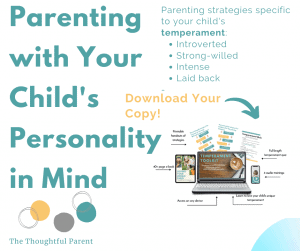 Myth #2 Strong-willed children will always be "difficult"
When you are in the trenches of parenting a strong-willed child, you feel as though every day will always be a battle (believe me I know!). When our children are little, there are so many potential opportunities for conflict during the day–putting on shoes, brushing teeth, getting dressed, etc. With strong-willed children, each of these tasks could be a potential emotional outburst or conflict-ridden showdown. It feels like these daily battles could go on forever.
Then, something happens. Our kids mature and learn a bit more self-control. As a mom to a strong-willed 12-year-old, I can tell you that maturity really matters. As our strong-willed children mature and gain more emotional coping skills, usually the daily battles become less frequent. The typical routine activities are now taken for granted. Sure, we might still experience our strong-willed child's persistent refusal occasionally but maturity does help these kids a lot. Of course, I haven't hit the teen years yet, so things could still change, but overall, I feel that if you really prioritize your relationship with your strong-willed child and try to avoid many power struggles, the bond you form will win out in the end.
How to handle a strong-willed child:
Focus on helping them see the WHY. Helping children (especially strong-willed children) understand why rules and boundaries exist is crucial. This is SO key to parenting strong-willed children and really comes into play as they mature. Strong-willed children have a keen sense of justice so if they can see (for themselves) why a certain rule or boundary exists, they are much more likely to go along with it. The old adage of encouraging children to do something "because I said so" will not work with these children who have a strong-willed temperament. 
Focus a lot of emotional skill-building. Learning how to cope with big emotions is a huge asset for all kids, but especially those with a strong-willed temperament. These children have BIG feelings. Whether it be joy, sadness, anger or frustration, strong-willed kids experience them all with a little added "flavor" that other kids may not experience. As parents, we can help them immensely by fostering their skills in coping with these big emotions. Instead of punishing emotional outbursts, we can focus on building their calming skills through teaching breathing skills, and sensory items that calm, promoting exercise for coping and modeling calm in our own emotional moments. 
Parenting strong-willed children brings its own challenges, but by focusing on our children's strengths and being open to learning about ourselves (that's huge), we can raise strong-willed children who learn to use their gifts in the world. By prioritizing our relationship with them and not focusing on how to "fix" them we can help them blossom into amazing adults.
Related Resources: