Sneak peek: Winter bucket lists abound this time of year, but what about activities to teach contentment to kids, instead of unrealistic expectations.
It's snow season! Winter bucket lists are around every corner. They promise to offer us the chance at wonderful memories and outings. This year is different, however. With the pandemic still raging, many of our usual winter bucket list activities might not be safe or open. So, in reality, a typical winter bucket list might set kids up for disappointment and unrealistic expectations for the season. Instead, what if we helped foster a sense of gratitude with activities to teach contentment and gratitude?
This year, I have really tried to focus more on encouraging my kids to think more about giving and kindness. It is a BIG challenge at times, I admit. My kids report back from school almost every day with stories of what his friends at school are supposedly getting for the holidays. Then the "I want" begins all over again.
This post contains affiliate links. I earn a small commission from these purchases at no added cost to you.
In such a culture, consumption has become a lifestyle. I feel this type of lifestyle breeds ungratefulness and that is one thing I do not want my kids to absorb from culture. As this author points out, "If your brain is focused on what you don't have, then you'll be unhappy." At some basic level, we all want our kids to be happy. I'm hoping that focusing on gratitude instead of consumption will help them develop a sense of deeper happiness that is long-lasting and meaningful.
You may also enjoy: Social-Emotional Development: The Ultimate Guide for Parents
Gratitude and Contentment Fosters Happiness
So I'm determined not to give up. And the research supports my endeavors–studies show that gratitude actually do spark elements of brain chemistry that support good feelings. Furthermore, in one fascinating study, kids as young as 2 were rated as being happier when they chose to give one of their treats away to a puppet friend.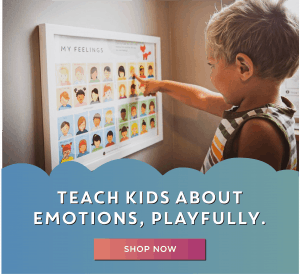 How to Create a Reverse Bucket List
I was reflecting on this when I came across a great article that mentioned a reverse bucket list. It has turned out to be one of the best activities to teach contentment to kids. The idea is to list activities that we did in the past that brought us joy and contentment. I'm hoping just the conversation itself will inspire a sense of gratitude. Then, of course, if we feel like doing these things again, that's great.
The whole idea of this simple gratitude activity is helping kids focus on the idea that the toys, experiences, family that they have is ENOUGH. This is a lesson I need to learn too, of course. What a great activity to teach contentment!
Related reading: Toys and Gifts That Promote Kindness
Many holiday posts are filled with ideas for new and exciting places to see or things to do. All these things that we "must" do before winter break is over. This year, in lieu of the winter "bucket list" I've decided to put together the Winter Reverse Bucket List. Here are a few ideas my boys came up with of things that they have loved doing in years past:
1. Watch Rudolf the Red Nose Reindeer (the old-fashioned version of course)
2. Go for a drive to look at Christmas lights
3. Go to our favorite pond and go ice skating (if it actually gets cold enough to freeze)
4. Decorate gingerbread people
5. Go see a living nativity scene
6. Go to a children's Christmas music concert
7. Make little presents for friends (my 8-year-old is WAY into origami)
8. Sledding on our neighborhood hill (if we ever get snow!)
9. Read our favorite holiday or winter books
Would you like to create a fun, meaningful Winter Reverse Bucket List with your kids? Sign up below to receive a FREE adorable (if I do say so myself) activity to teach contentment. Download this printable reverse bucket list template to complete with your kids and hang on the fridge. It will help remind you of all the wonderful things you have done together.
It's amazing what happens when we focus on what we have (and help our kids to the same), instead of what we want. Gratitude and contentment abound!
Enjoy a lovely season with your kids!
Pin for Later: