Last Updated on
{Kindness and empathy in kids can be modeled but we also have to be intentional about fostering it. Toys and gifts that promote kindness can help parents bring important lessons into kids' lives in a playful way.}
I think many of us have experienced this moment: we look at all the conflict and strife in the world, then we look at our kids and really wonder what type of world they will inherit. I have had a lot of these moments in the past few years. As my boys get older (now 10 and 6), they are becoming more and more aware of the ugliness that exists in our world. However, I'm determined not to lose hope! One of the biggest privileges (and responsibilities) of being a parent is to raise kids who can make the world a better place. That's why this year on the blog I'm focusing a lot of attention on social-emotional development. One simple way to empower our kids to make the world a kinder place is to start with everyday interactions and activities. Our kids play with toys and games every day; why not include some toys and gifts that promote kindness in the mix?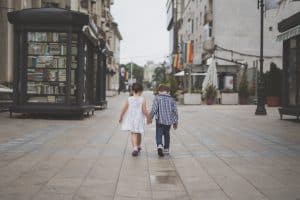 This post contains affiliate links. Purchasing through these links provides a small commission to me (at no added cost to you!)
We are constantly trying in our home to encourage an attitude of gratefulness and unselfishness with our kids. We know from research that kids really don't have the brain maturity to think about much other than themselves until they are at least 4 years old. This doesn't mean we can't start early, however. Modeling kindness and empathy is really a lifelong process.
When thinking about this issue, one book and its key concept that keeps popping into my head: Unselfie: Why Empathetic Kids Succeed in Our All-About-Me World. I've been following Dr. Borba's writings on this subject and it has really struck a chord with me. She focuses on ways we can teach our kids to think about WE instead of just ME. As she notes, empathy is not completely innate. The qualities of kindness and empathy in kids are "taught, not caught."
Teaching kindness and empathy does not have to be a top-down "preachy" business. Kids can learn these lessons through fun, engaging toys and gifts that promote kindness subtle, but meaningful ways.
You may also enjoy: Social-Emotional Development: The Ultimate Guide for Parents
With this in mind, here are some of my favorite toys, gifts, and games that promote kindness.
Gifts that Inspire Kindness and Social Responsibility
Wonder Crate: I found this subscription box a few years ago and I just love it. Each box features stories from inspiring real-life activists, inventors or scientists like Malala Yousafzai or Jane Goodall. Plus there are activities to inspire kids' own creation or investigation. New this year–Wonder Crate, Jr. for 3-5-year-olds.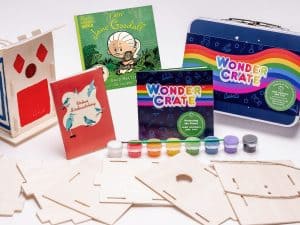 Kindness Tokens: A great simple idea that even the youngest kids can do. Leave little tokens of kindness around town for others to find. Easy and fun!
Kindness T-shirts: Kids love to make a statement with their clothing. You can feel good supporting these messages of kindness.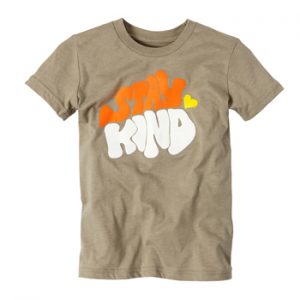 Kindness Rocks Project: This is such a fun idea for the artist or craft-loving kid in your family. Your child can paint Kindness Rocks and leave them in creative places for people to find (and brighten their day). Everything you need is included in this cool kit!
Gifts That Give Back
Kindness Dolls: a doll that actually helps encourage kindness in kids–great idea. It's simple: you choose a doll (with names like Hope, Grace or Fair) and it comes with tokens of kindness that your child can pass out to others. The tokens are meant to encourage others to pass along kindness to others. Another great feature is that for each doll sold, another is donated to a child less fortunate (e.g., children in homeless shelters or hospitals).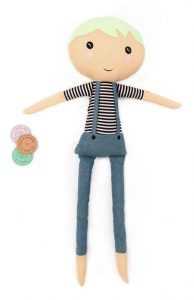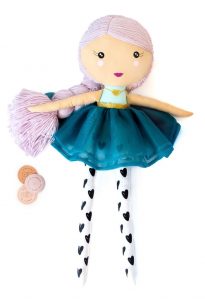 Cuddle and Kind: I came across these online and I instantly fell in love with them. Hand-knit dolls for boys and girls that are made in Peru. The best part–the artisans who make the dolls are paid a fair trade wage. An added bonus is that for each doll bought, the company provides 10 meals to kids all over the world through the World Food Program.
Lillypost: There are tons of kids subscription boxes out there but not all of them give back to charity. Lillypost is awesome because they provide beautiful kids' books right to your doorstep (at up to 50% off retail price). The books are designed for your child's age. Plus, for every box they ship, they give a book to a child in need! So far, they've donated over 90,000 books! Your kids are happy with new books and a child somewhere else is happy too.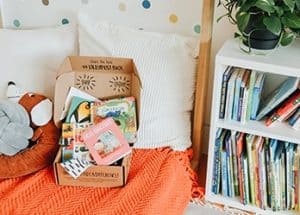 Toys and Games that Promote Cooperation
Kids are taught competitiveness most of their days in school, sports, etc. Competition has its place in all our lives, but so does cooperation. Kids often need practice using cooperation and how to work with others on a team or project. These games and toys help foster this sense of cooperation.
Sunny and Stormy Day: (age 3+) young children need help understanding how to share and this game fosters that in a fun way. Includes 3 different activities that foster cooperation, sharing, and storytime.
Stone Soup: (age 4+) cooperative memory game (no reading required) where players work together to match ingredients.
Mole Rats in Space: (age 7+): a cooperative game for older kids. Players work together to and use strategy to help the mole rats build a ship before the evil Snake attacks.
Strong Suit: this game is so cool because it not only fosters cooperation but also enhances social skills and confidence. Kids work together and use their own personal strengths to help grow the tower.
Gifts and Games That Promote Family Connection
Not all games and toys are just a fun diversion. Research tells us that kids learn valuable social-emotional lessons through play. In this large market of toys and games, there are actually a few out there that help kids learn cooperation and build connection with others.
Table Topics: get beyond the age-old question of "how was your day" with these fun, insightful questions to prompt conversation. Age-appropriate for kids (age 6+) and adults. A nice way to learn something new about each other and foster strong connections.
This or That?— a fun family game that helps promote connection and bonding. Learn fun facts about your family that you never knew! (ages 8+)
Shape Your Story: a cooperative (or timed) storytelling game (ages 5+). Use dry-erase cards to build your story or work with others to develop a story. A wonderful way for families to work together and build creative skills.
Gifts and Toys that Promote Emotional Intelligence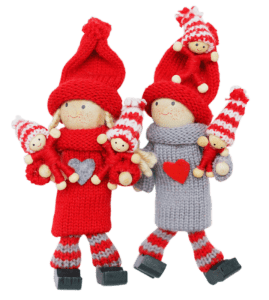 Kindness Elves: We all are familiar with the Elf on the Shelf. While some think he's loads of fun, I also felt a little icky about the idea of the "big brother watching out for you doing wrong" idea. The Kindness Elves just feel more realistic and meaningful to me. They still do silly antics at night, but in the morning they have suggestions for random acts of kindness that kids can do.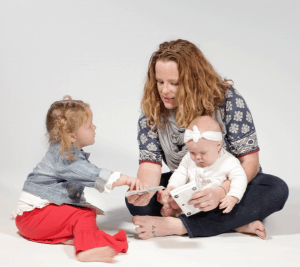 Peacemakers: Each card delivers a unique, affirming message designed to nurture emotional intelligence including self-love, social skills, a growth mindset, confidence, and more. These messages are brought to life by centering conversations, activities, and stories around the themes. (ages 2+)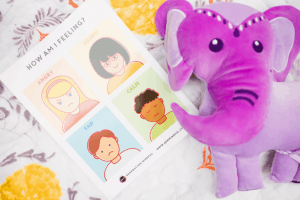 Snuggle Buddies: soft characters that help young children understand emotions. Each character comes with 4 plush emotion symbols to help them identify how they are feeling. Sometimes symbols work much better than words when kids are upset!
Monkey Expressions: for young children, the first step in building kindness and empathy is just helping them understand emotions. This game helps toddlers and preschoolers understand the emotions behind different facial expressions. (ages 3-5)
52 Essential Conversations: backed by research and promoted by the leading social-emotional curriculum organization (CASEL), this game fosters emotional learning in a fun way. The questions focus on building fundamental social-emotional skills like empathy, growth mindset, inclusion and confidence.
Charitable Gifts
Besides gifts and toys for our own kids, one of the best ways to model kindness is, of course, through showing kindness to others. These charitable gift ideas are ways that kids can get involved in helping and serving others.
"Sponsor" a family or child: many organizations have the option to sponsor the needs of a family or child. You and your family can shop for the gifts together and pick out the items they need or want. These organizations can be local or international organizations that work all over the world.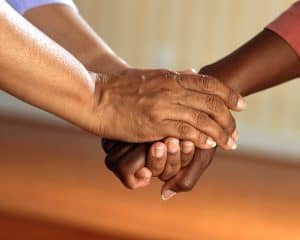 Help send a care package to military service members: organizations such as Operation Gratitude collect items and donations to send to service men and women stationed all over the world. You can donate items, money or help assemble packages.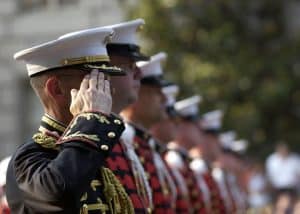 Donate items to a homeless pet shelter: shelters for homeless pets are always in need of food, treats, toys, etc. for the pets. Kids will probably love picking out pet items for some cute animals that really need help.
Thinking of Others
When it comes to gift-giving, kids can show kindness in many ways. Gift-giving itself means considering the feelings of others so it offers a real-world way to foster empathy.
Gift lists for others: kids always get excited about writing a gift idea list for themselves. How about encouraging kids to write a gift list for others. What would mom, dad, grandma, or uncle like for their birthday or a holiday?
Buying (or making) gifts for others: if your child is old enough to be earning some "pocket change" then encourage them to save it up to buy a gift for a friend or relative. Of course, most adults also love gifts that are handmade by a child. Pull out those craft supplies and make some gifts.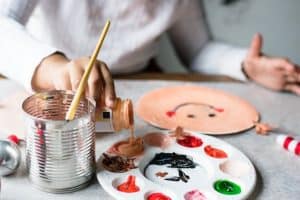 Make "blessing bags" together: a few years ago my moms' group made bags for the homeless individuals you see on the street while you're stopped at a stoplight. Usually, they include just some basic necessities and snacks. The first time we handed one out to a person at a street corner, it really made an impression on my son. Since then, we've been making them every few months, especially during the cold winter months.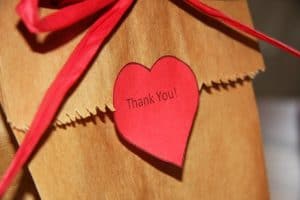 Perfect for Pinning: