Last Updated on
{Play is the engine of learning in early childhood. These wonderful toddler development toys help foster play and learning.}
What is your child's favorite toy right now? Have you ever thought to consider why this toy is their favorite? Does it provide comfort? Was it given to them by someone they love? Does it help them perform a skill or activity they enjoy? I ask these questions because I firmly believe that the toys our kids use really matter. They aren't just simple playthings. These are the items that are helping our children build skills, boost learning and solidify memories. For our youngest children, especially, toys are probably the center of their world. Let's take a close look at the role that toddler development toys can play in our children's learning.
This post contains affiliate links. Purchasing through these links provides a small commission to me (at no added cost to you).
Related reading: Toddler Development: A Research-Based Guide for Parents
Play Schemas and Toddler Development Toys
Has your child gone through a stage where all they wanted to do was one type of play? For example, they only wanted to play with trains or play pretend doctor or build forts. In many cases this urge to do one type of play related to a particular play schema. Play schema is just a fancy phrase to describe an urge a child has to participate in one activity repeatedly.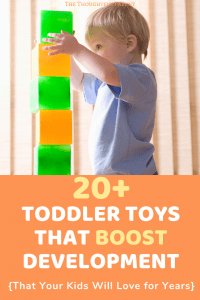 I had a feeling these existed based on watching my own kids but I didn't really understand them until I read a wonderful article that explained all the different types. Understanding these schemas can be helpful in choosing the best toddler development toys for their stage. Here's a quick review of the different types of play schemas:
Orientation: the urge to reorient yourself in space. Kids might want to hang upside down, climb under a table, etc.
Positioning: the urge to position things in a certain order. Kids may line up toys, stack books, etc.
Connection: the urge to connect items or possibly disconnect items. Kids may connect train tracks, Legos or destroy such items.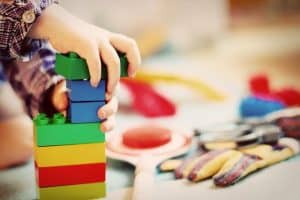 Trajectory: the urge to drop or throw items. Kids may want to jump off things or drop toys from high places.
Enclosure/Container: the urge to fill cups/containers or put themselves into containers like boxes or forts. Kids might want to pour and fill cups, climb into small spaces or put fences around objects.
Transporting: the urge to carry items from one place to another. Kids may carry small items in their hands or buckets, jars, etc.
Enveloping: the urge to cover yourself or other items. Kids may cover themselves with sheets or cover their toys with paper or blankets.
Rotation: the urge to play with anything that goes round and round. Kids may want to play with steering wheels, toy car wheels or even spin themselves.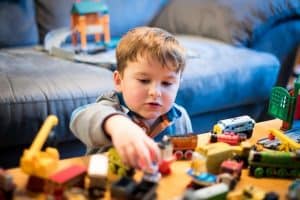 Transform: the urge to alter the state of an object. Kids may want to mix their food together or stir unusual items together (e.g., "making potions" is what we call it)
I remember vividly when my own son was about 2 years old and he experienced a strong play schema period with pouring and filling (or what the schema experts would call the "enclosure/container" schema). He had to practice pouring water from a pitcher into a bowl or any action similar to that. I finally gave in and set him up on the kitchen floor with a pitcher of water, a bowl and lots of towels!
As parents, it's helpful to understand these play schemas because it gives us insight into why our children favor certain toys or activities during particular points of development. Many times these schemas can relate to children's development of certain skills (fine motor skills, eye-hand coordination, etc.). At other times, these schemas may be part of a larger growth spurt or developmental leap that children are experiencing.
Related reading: Finding Meaning in the Mayhem: How to Spot (and Survive) a Toddler Growth Spurt
For example, remember when your baby first started learning to crawl? Some babies go through a period of restless sleep during this time because they are "practicing" this new skill in their sleep. While they may not literally practice it in their crib, their mind is practicing it and has trouble calming enough to sleep. Many of us have experienced this even as adults. When I was first learning to ski (still learning by the way!), I remember practicing that skill in my mind, even as I was sleeping. The brain is really amazing in this way!
Which Toys Can Help a Child's Development?
Once we understand the concept of play schemas, we may have a better idea of how to choose toddler development toys that will most benefit the stage our child is in. Instead of just relying on toy fads or what's popular, you will have the information you need to choose toys your children will love for the long-term.
With that in mind, I've put together these toy lists for some of the best toddler development toys. Based on your child's interests and skills, any of these items could be some of the best gifts for 2 year-olds, 3 year-olds or possibly even some 4-year-olds.
Toys for Building Fine Motor Skills
These toys are wonderful for strengthening those tiny finger muscles that will eventually be used for handwriting and pinching small objects.
Toys for Fostering Gross Motor Skills
Toys that help build those big muscle groups used for running, jumping and playing.
A remarkably simple, yet super fun and useful toy. Kids can devise new, creative ways to set up the tube to race cars. Open-ended play at its best!
Another seemingly simple toy that kids will enjoy for years. My boys have had theirs for years and they still play with them at ages 6 and 10. Great for building motor skills and burning off energy in those cold winter months.
Another perennial favorite with toddlers. Great for indoor or outdoor use. We used ours for many years both inside and in the backyard. Also great for rolling toys and cars down.
Perfect for toddlers who want to climb on everything. It helps them build those muscles while staying safe (and not climbing on furniture!). Durable enough to last for years.
Another safe, fun way for toddlers to stay busy indoors. This first ride-on bike will help them gain core strength and balance.
Toys for Pretend Play
Pretend play is a common interest of toddlers and preschoolers. It's a wonderful way for kids to learn social-emotional skills and foster cooperative play.
Great for fostering healthy eating habits and learning food names
Encourage early skill-building and helpfulness with this cleaning set.
A childhood classic that promotes a lot of role playing options.
Great for pretend play and building fine motor skills (my son LOVED this set as a toddler)
Toddlers love to imitate mom and dad's everyday activities
Costumes add an extra touch of realism to pretend play
Toys for Building Emotional Skills
Emotional skills can be fostered, even at this young age. These toys help kids become more aware of emotions.
Toys for Quiet Time
Parents need quiet time and kids really do too. Foster calming play with these simple toddler toys to keep them busy.
My hope is that these toddler development toys will not only boost your child's development but will foster years of meaningful play for them.
Children learn as they play. Most importantly, in play children learn how to learn.

–O. Fred Donaldson