Sneak peek: For kids, playing dress up is just fun, but child development research shows us that it really is educational. The benefits of dress up play make it a win-win for kids and parents.
We all love playing dress up during Halloween but this fun playtime activity is great year-round. It turns out, that there are many benefits of dress up play for social-emotional development and overall toddler development too.

Benefits of Playing Dress Up
Playing dress up is not just for Halloween. Kids love to dress up in costumes and pretend to be different characters all year long.
I fondly remember when my oldest son was about 4 years old, he went through a phase where he wanted to dress up in
costumes
pretty much all day. He would change outfits 8-10 times a day!
I loved it! Sure, I got tired of helping him in and out of costumes but I really appreciated his imagination. At age 4, he was at an age of make-believe and flexible gender roles. One minute he was a superhero, the next a policeman, and once in a while even a princess (which had to be improvised out of my shirts because we had no princess outfits!).
Related reading: Why Play-Based Learning is the Secret to Playtime with Your Kids
The point is that this phase of development in which kids' brains and ideas are so flexible is amazing. We should enjoy it and foster this type of play while this phase lasts.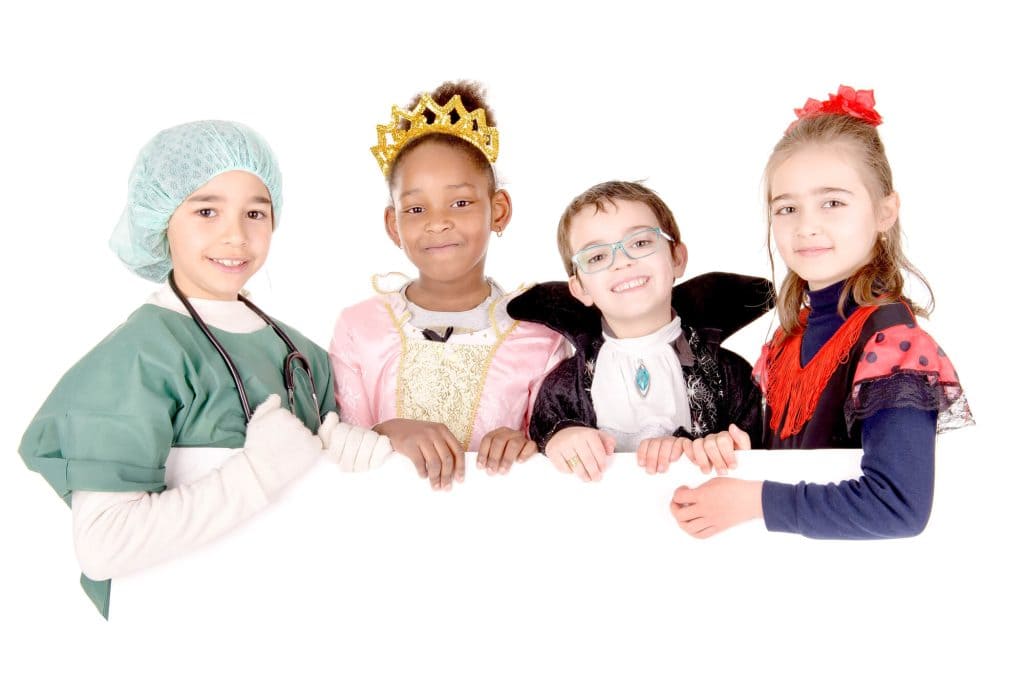 How Does Playing Dress Up Help Children's Development?
You may wonder
if kids are actually learning anything through dress-up play.
The answer is a resounding
YES
!
Mental flexibility:
We think it's just kid's fun to take on another person's identity but consider the amount of mental flexibility it takes to take on a role. For a 3-5-year-old child, it is a fairly complex skill to role-play a different person and actually stay in character. As kids mature and their dress up play becomes more elaborate, this shows even more mental flexibility as they develop characters that are "outside the box" of what they've actually experienced in real life (e.g., mermaids, superheroes, etc.)
Self-regulation:
Preschool age kids are not known for having a lot of self-regulation skills but dress-up play can help with this skill. Role play encourages kids to take on the words and actions of another character. These types of skills require kids to self-regulate enough to limit their actions to those of the character, not their own (at least briefly).
Role identity and relationships:
During the 3-5-year-old range, kids are still figuring out their place in the world. This means negotiating good vs evil, male and female, teacher and student, etc. Dress-up play helps kids work through this understanding of role identity. They can take on different roles for a short time to help understand the feelings of another person. What a great way to learn empathy!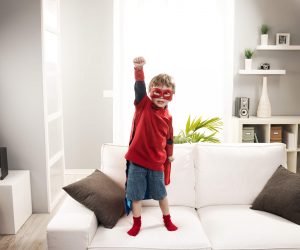 This post contains affiliate links. Purchasing through these links helps support this blog at no added cost to you.
Language skills
Young children are still learning new vocabulary all the time. Dress up play helps expose them to new words in different contexts that they may not have learned previously.
To encourage dress-up play all year round, not just at Halloween, you can stock up on costumes while they are on sale. Favorite characters are fun, but also consider costumes that aren't related to a TV or movie. This really helps kids "think outside the box" of screen-based roles. Many places have a great selection of everyday heroes (doctors, police officers, firefighters, etc). A great time to explore all the different roles your kids enjoy.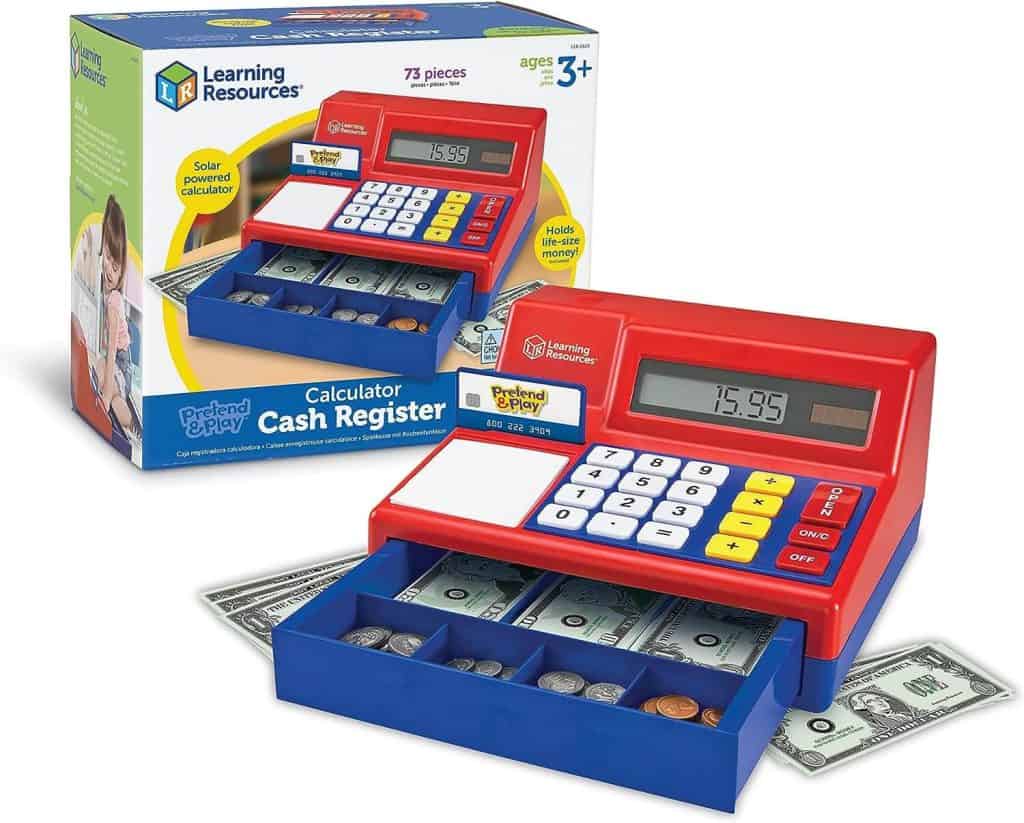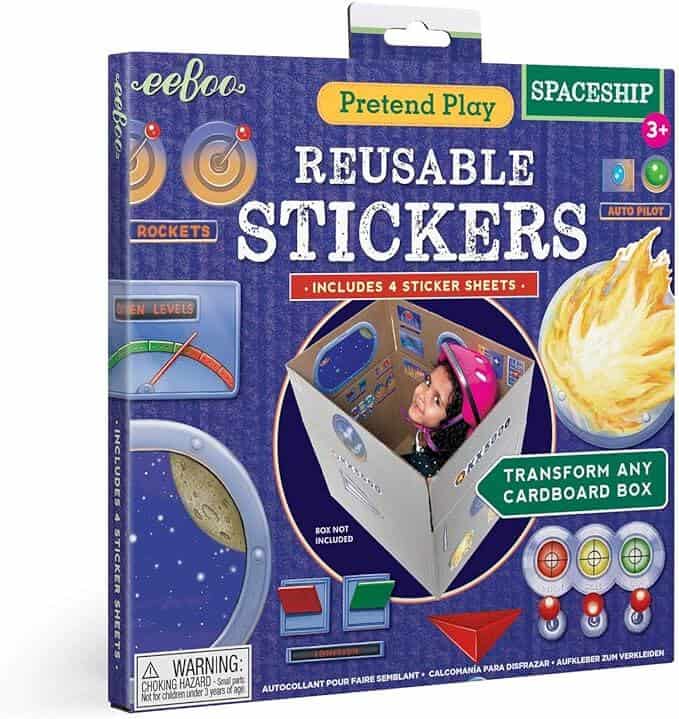 Pretend Play Stickers (transform a box into a spaceship!)
Perfect for Pinning: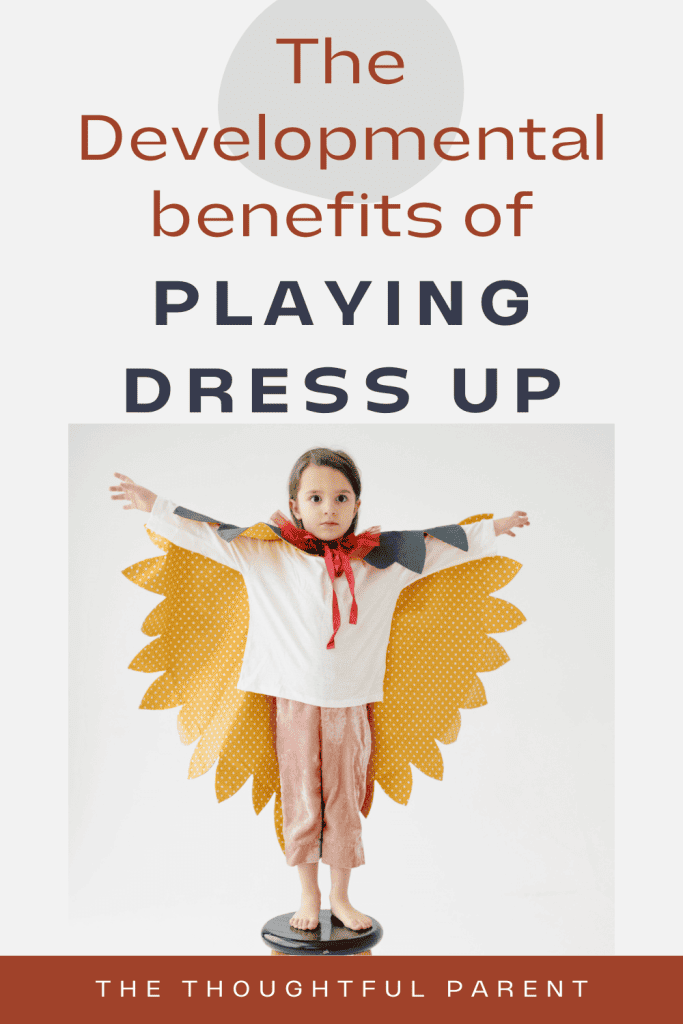 * This article includes affiliate links. Purchasing through these links helps support this blog at no cost to you (thanks!).