Last Updated on
{With all the options for screen time for toddlers, it's hard to know the appropriate guidelines to set for our children. Let's look at some research and tips for handling toddler screen time in healthy ways.} 
There's nothing like the topic of screen time to prompt feelings of parental guilt and heated discussions among parents. It seems every week there is a new warning to parents about the dangers of new apps or how screen time is ruining our children. Screen time for toddlers is especially controversial as their young brains are especially susceptible to all influences, screen or otherwise.
As a student of child development, I try my best to stay up with the current guidelines on screen time for kids. As a parent, however, I recognize that the guidelines for toddler development are often difficult to maintain in real life. We all have to cook dinner and shower and sometimes the screen becomes the just-long-enough distraction to allow those things to happen.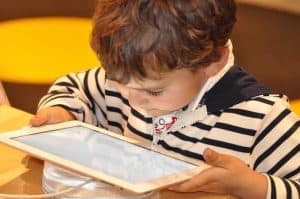 With this in mind, I reached out to a specialist in the field: Parven Kaur is a mom and writer who focuses on Internet safety and digital literacy. Her blog, Kids N Clicks offers sound advice and recommendations on all things related to digital and screen media for parents. Her work has been featured in The Telegraph and Common Sense Media.
She offered to write a guest post about screen time for toddlers and I jumped at the chance to share her work:
Parenting is not an easy job. Especially when all you want is a moment to yourself. However, everywhere you must be reading that children under the age of 2 should not be allowed any screen time.
If you are like me then you probably be thinking how this is even possible to parent without screen time.
Sometimes Mom just needs a break and it is during those time that we might turn to screen time.
Don't feel guilty and ashamed.
I will show you how to find the right screen time balance for your toddler without shame and guilt.

This post contains affiliate links. Purchasing through these links provides a small commission to this blog (at no added cost to you!).
Age-Appropriate Content
There are plenty of educational shows on TV. I have stopped using YouTube because inappropriate ads targeted towards children there. Also, because I do not want my toddler to grow up watching unpacking of toys.
Instead, I use Netflix for children. Read the reviews and official ratings to make sure that it is age-appropriate. Some of my favorite channels are Mother Goose Club and Chu Chu Baby. Check out Common Sense Media's list of terrific toddler shows.
Besides avoiding obvious hazards like violence or inappropriate language, research also tells us that shows that are too fast-paced may not be the best choices either. In the infamous "SpongeBob Study" researchers found that kids who watched just 9 minutes of a fast-paced TV show (i.e., Spongebob Squarepants), exhibited lowered levels of executive control afterward. Executive control includes skills like paying attention and inhibiting impulses. While these results were not followed for extended periods of time, it is something to consider. Many parents I know commonly discuss how their child's behavior changes after watching certain shows.
Related reading: What You Need to Know about Screen Time for Toddlers 
In general, toddler screen time should focus more on slower-paced shows with positive messages. Although we may find shows like Daniel Tiger or Sesame Street boring, they are more the pace that young children can follow.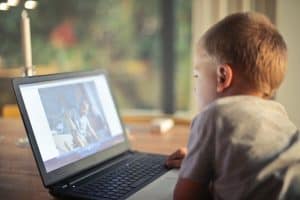 Can Screen Time be Educational for Toddlers?
As with all things child development-related, it all matters how you assess "educational." It is very clear from research that infants and toddlers cannot learn language from videos. Several studies have verified this, including one with young toddlers (12-18 months) old in which they watched a video 20 times and learned none of the words from it.
In terms of "educational" in a broader sense, the research shows us that it is difficult for young children to accurate interpret lessons in shows. Parents often pick shows that are intended to teach a positive social or moral lesson. While good in theory, very young children often have difficulty picking up on the social message. For instance, one study found that kids often focus on (and emulate) the conflict aspect of a story rather than the "happy conclusion" or positive message that ends the story.
Structure screen time
Toddlers need a structure in their day. They need to play, eat and sleep at the right time of the day.  The same goes for screen time.
Before giving them screen time, look into their schedule and decide when you would slot it in. For instance, in the evening when you are preparing dinner or when you want to take an uninterrupted shower.
Using screen time for toddlers as a once-in-a-while "treat" rather than the "main course" is usually the best approach at such a young age. It's easy to be swayed by toddler's persistent requests for screen time but if it's used in a regulated way, you are less likely to be persuaded.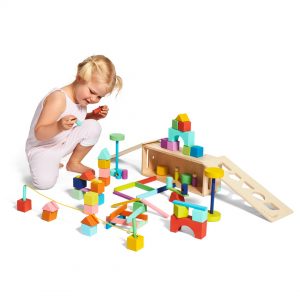 Shop the NEW Block Set from Lovevery!
Avoid Using Screen Time as a Coping Device
This is probably the biggest issue I see today with the use of screen media–kids relying on screens as a self-regulation tool. We see this more so in public venues: a toddler is on the verge of throwing a tantrum and instead of facing that public embarrassment, the parent will offer the child a tablet or phone to calm them down. This presents a big problem for long-term child development. If kids are often given a device to ward off a tantrum, they really never learn the emotional regulation it takes to feel their negative emotions and learn to cope with them in a healthy way.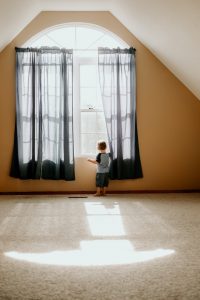 Although the research on this topic is limited at this point, there does seem to be a connection between kids' use of mobile devices and impeded social-emotional development. Of course, it isn't clear yet if this connection is causal. We don't know if kids struggling with emotional control are just more likely to be handed a device or if the overuse of the device as a self-soothing tool is what caused the lack of emotional regulation. Nonetheless, it's good to be mindful of using any device, food or other distraction as a coping mechanism to help kids avoid difficult emotions. The only way children learn to deal with negative emotions in a healthy way is to practice actually having to cope with them instead of being distracted out of them.
Resources such as time-in toolkits or emotional learning games can all help kids build these crucial social-emotional skills so that fewer tantrums happen over time.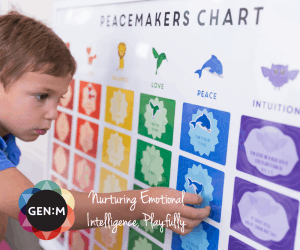 Don't use the screen as a baby sitter
Always remember that a screen is not a replacement for face-to-face interaction and sensory play. Toddlers still learn best from caring adults and interpersonal interactions. Plan for outdoor activities and plenty of exercise.
Also, I find that my toddler gets bored of the screen after a while. Hence, I plan for things to do after 20 minutes of TV. For instance, book reading, sensory play, and other independent games.
Sometimes I just play nursery rhymes on the speaker instead of the TV. We dance to songs for a while until my toddler gets tired.
Need ideas for toddler play? These screen-free play plans are awesome!
Take inspiration from screen time
Screen time for toddlers can be a good source of inspiration for real-life activities. My kids loved acting out their favorite characters, putting on costumes and building props related to shows they enjoyed. This is where the magic of guided play works well. Help expand your child's make-believe world with real-world activities.
I use the nursery rhymes my daughter sees on TV as part of a learning experience. For instance, if the song Twinkle Twinkle Little Star comes on I will enact the movements or even show her stars and moon at night.
Related reading: The Developmental Benefits of Dress-Up Play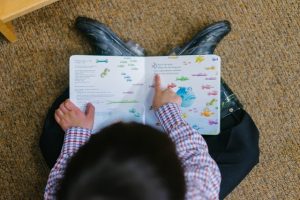 Limit screen time
I set a timer on my phone and stick to it. This way I am ensured that I will not go beyond the time limit I set for myself.
For my older toddler, I use an actual alarm clock and my toddler now understand the alarm goes off mean screen time is over. Hence, no argument and tantrums over wanting a few more minutes of TV.
The American Academy of Pediatrics recently revised their recommendations regarding screen time. They recommend no screen time (except video chatting) for children under 18 months of age. From 18 to 24 months of age, limited digital media can be introduced with parents watching with the child to help them understand its content. From children ages 2-5, they recommend no more than 1 hour of screen time, with it being high-quality programming such as PBS.
As with most aspects of parenting, screen time is all about balance. Apps and devices can be a good source of creativity if used in moderation.
Need a daily reminder to keep you on track with balancing screen time with rest, movement and play?
Sign up to grab this FREE printable chart (great to hang on your fridge!)
Balance screen time with plenty of rest, outdoor play and face-to-face interaction.
Ask yourself the following questions :
Is my toddler sleeping enough?
Is my toddler physically healthy?
Is my toddler having plenty of face to face interaction and connecting well with family and friends?
is my toddler spending time playing outdoors?
Is my toddler having fun and learning new things using digital media?
If you answer YES to all of the above then you are most likely balancing screen time well!
Related Resources:
Perfect for Pinning: