Sneak peek: A fun guest post by fellow parenting blogger Neve Spicer about the science of hugging. If you're struggling with parenting this week, maybe a hug will help everyone involved.
Scooping up your kids for a hug or kiss, welcoming them home from school with an embrace — these expressions of love are ones we give without a second thought. They foster bonds, provide love and reassurance, and just feel good for everyone involved.
Thanks to investigative research, we now know that hugging isn't just a feel-good activity because of the love we have for our families. There are scientifically-proven biological and psychological benefits to giving and receiving hugs that are well worth noting. The science of hugging helps us see the true value of this simple sign of affection.
National Hugging Day, which takes place this January 21, offers families a great reason to take a closer look at the ways hugs can positively impact health. Though the COVID-19 pandemic curtailed hugging for a while, many of us probably came to appreciate the simple pleasure of a hug even more during that time. 
Related reading: Easy But Powerful Ways to Connect with Your Kids

Related reading: Combining Research and Intuition in Your Parenting Choices
The Science of Hugs
Some highlights:
Hugs reduce the presence of proinflammatory cytokines

: When your body experiences chronic inflammation, it responds via the release of proinflammatory cytokines. Untreated, the presence of these chemicals is linked with cancer, heart disease, diabetes, rheumatoid arthritis, and other serious illnesses. Daily hugs predict lower levels of two important proinflammatory cytokines, reducing disease risk.

[

1

]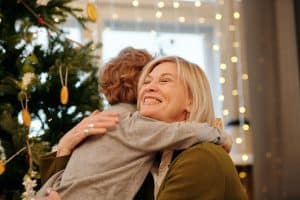 Being cuddled speeds infant healing in the NICU

: When babies are born prematurely, a variety of medical interventions may be needed in order to aid them in their survival and help them grow and thrive; this treatment happens in the NICU. While a NICU stay often limits the amount of physical contact parents may have with their child, evidence demonstrates that the cuddles they do receive may enable them to heal more quickly.

[

2

]

Hugging increases our microbiome

: It's certainly true that not-so-nice bacteria can be transferred while hugging, but the "good" bacteria that create our microbiome, safeguards us from illness, and helps us maintain healthy digestion is obtained partially through contact with others — hugs, for example.

[

3

]

Hugging might help your kids sleep better. This is music to every parent's ears! Research shows that hugging is associated with the release of the hormone oxytocin which is known to promote calm. Time to hug it out at bedtime! [4]
More information about National Hugging Day's history is available on the event's web portal.