As a person trained in the methodology of family science, there is nothing that bothers me more than when the media misinterprets a research article. Researchers know this happens frequently and are often leery of publicizing their work (even interesting work) because of this issue. Case in point—the recent study that was all over the media concerning the issue of quality vs quantity time with kids.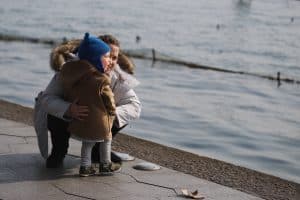 You probably read the headlines—"Parents, give up the guilt, study says quality time matters more than quantity." It is quite telling that almost every article that discusses this study includes the word "guilt." This tells me that this is an emotionally charged issue, not just for the readers, but perhaps for the journalists writing the articles.
First, before I delve into this further, let's look at the basics of the study:

the study examined children ages 3-11 and adolescents ages 12-18

the outcomes that were assessed in the children included emotional adjustment, academic achievement and behavior

the authors looked two types of time: (1)

accessible time

—time in presence of mother, but not engaged in an activity; (2)

engaged time

—basically any time engaged with the mother in an activity

the data came from time diaries from one weekday and one weekend day. The authors "created" weekly sums by extrapolating 2 day sums to a full week (they say this is a common practice)

they also looked at children and adolescents' time spent with their father (alone) and both parents

as usual, the study include other structural factors—mothers' education, family income, family structure (i.e., two-parent, single parent, step-family, etc)
First, the main finding that prompted all the headlines was this one: the sheer amount of time mothers spent with their children was not associated with any of the child outcomes. It did not matter when the authors looked at engaged time or accessible time; the amount of time was not related to outcomes. This was for children only; there were some relevant findings concerning time spent with adolescents (I'll save that for another post).
Okay, that is interesting but does it imply that quality matters more than quantity? In contrast to virtually every media outlet around (except notably the Brookings Institute), I say "no." This finding does not imply that quality trumps quantity when it comes to time spent with children. As the authors themselves point out, they did not specifically assess "quality" time.
"although we examined engaged time, in which children and mothers were interacting with each other, we did not focus on quality time – the amount of time in particular quality activities with children, such as reading or eating meals together versus watching TV or cleaning with them – neither did we assess the quality or tone of mothers interaction with children, such as warmth, sensitivity or focus."
What is Quality Time?
To adequately assess the question of quality time versus quantity of time, a study would have to specifically measure these two concepts distinctly and compare them. This study did not do that. Although this study did separate out engaged and accessible time, it did not define either of these as "quality time." From this study alone, we have no better understanding of what "quality time" actually looks like or what types of activities might be more beneficial for children. This was not the goal of the study, yet the media has extrapolated from this study that "quality trumps quantity." Yet another disappointing example of how the media often overlooks the details of a study to get a flashy headline.
Related reading: Acts of Kindness for Kids: Ideas Kids Can Do While Stuck at Home
Relay: the best cellphone alternative for kids
Guilt is Not the Answer
As I mentioned, the word "guilt" was included in almost every story written about this article. What does this tell us about the state of parenting today? Apparently, we as parents (perhaps including the journalists) are dealing with a lot of guilt. I understand this. I am a stay-at-home parent so I spend a lot of time with my kids and I still feel guilty at times. Yes, I put my kids in front of the TV sometimes just so I can have a few moments of peace or time to cook dinner. Is the answer to this to believe whatever the media tells us to moderate the feelings of guilt? I believe not.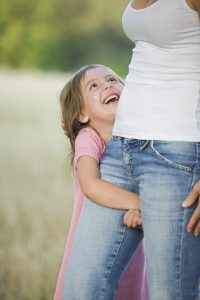 How about taking a different approach? How about we "own" these feelings of guilt and use it as an opportunity for self-reflection. How are our children doing? Are they misbehaving at school or acting particularly rebellious at home? If so, maybe this is a sign that we do need to spend more time with them. However, it's not because we feel guilty; it's because our children need us. If our children are overall adjusted and seem to be functioning well, then maybe our guilt it just societal-driven and not based on anything real.
Getting Beyond Quality vs Quantity Time with Kids
We all face many pressures as parents in today's culture. I think the key is to take some time to really look at your specific family and decide whether your choices to work or stay at home or work part-time are really meeting the needs of everyone involved. If so, then have confidence in your parenting and the idea that you are doing best you can. Please do not buy into this media-contrived idea of "quality vs quantity" time with kids. This is not the answer; parenting and life are much more complicated than that.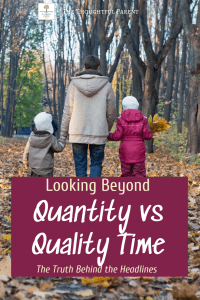 Milkie, M., Nomaguchi, K., & Denny, K. (2015). Does the Amount of Time Mothers Spend With Children or Adolescents Matter? Journal of Marriage and Family, 77 (2), 355-372 DOI: 10.1111/jomf.12170