Sneak peek: These wonderful books for new moms offer insight into motherhood and infant development. Ease the transition to motherhood by reading these books to prepare your mind and emotions.
Becoming a mother is perhaps one of the most transformational life experiences a person can go through. Motherhood influences almost every aspect of life–emotional, physical, psychological, social (hello, where did all my friends go?), and perhaps even spiritual. I don't think any amount of reading or preparation can completely equip you for what it means to become a mother.
Thinking back to my early months as a mother, I found myself often searching. Searching for ways to make sense of the new experiences and feelings, searching for solid information about my baby's development, and searching for a way to make sense of his behavior. I devoured books in those early months (as best I could with a fatigued brain) trying to make sense of it all. While the books helped, I finally realized that they didn't have all the answers. The process of searching and adapting to this new stage of life ultimately revealed its own answers. The answers had to come from within; from the process of observing and learning about this new little human. This is the aspect of new motherhood that no one can prepare you for and that no book can answer for you.
Related reading: Why the Best Parenting Advice Finds a Balance Between Research and Intuition
What books can do, however, is help prepare you for the more tangible aspects of motherhood. Knowledge is powerful in this regard. The more you know about what is happening with your own body, and your baby's development, the more confident you feel in your choices and action. That is where this list of books comes in handy. These books for new moms offer information and insight into motherhood and a baby's life and development.
Best Books for New Moms
I first found this book when my first son was a tiny little guy and I have recommended it countless times since. It represents the best of both worlds when it comes to parenting books–research-backed information coupled with a friendly, approachable writing style. Bonus, author Alice Callahan throws in a bit of her own experience of motherhood to really make this an all-around great resource for new moms.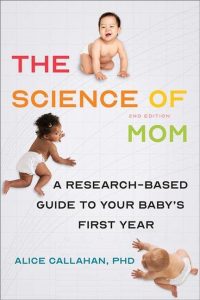 Unfortunately, this book was not on my radar (or perhaps had not been published in English) when my kids were babies. Oh, how I wish I had known about it then. There's a reason this book has sold millions of copies. It breaks down babies' development week by week and specifically helps parents understand what their child is experiencing. This book is so helpful for new parents because it gives meaning to infants' behavior that we often cannot understand on the surface. It helps parents understand how their baby's development might be impacting their behavior and moods (i.e., why is my baby suddenly cranky all the time!). A must-read for any new parent.
A big part of becoming a mom is learning to balance your needs with those of your child. This is no easy task. The dominant cultural narrative these days is often the simplistic dichotomy between either being a martyr-type mother or being selfish. Society would have us believe that there is no middle ground. I strongly disagree and so does this book. This book helps moms understand the big, complex emotions that can come with motherhood and offers tips for coping with them in order to thrive in this important role.
The First 90 Days After Birth: A Self-Care Journal
I absolutely love the concept of this book/journal. So many books for new moms focus solely on the baby. This one helps moms focus on themselves and their needs a little bit each day. The journaling prompts are thoughtful and help moms process all the big emotions they may be experiencing. Plus, each day includes a self-care checklist to remind moms to care for their own needs.
Even if you are not familiar with the Montessori approach to education, this book is a super helpful resource for parents. Since the Montessori method focuses on understanding children's development and how to meet their needs at each stage, this approach is invaluable for new parents. Armed with this knowledge, a new mom (or dad) can learn to set up activities and a home environment that fosters their child's development.
While I'm not usually one to jump on the latest parenting book bandwagon, this might be my one exception. I've watched Dr. Becky's advice on Instagram for months now and I can see why so many parents appreciate her approach. It's down-to-earth, realistic, and research-backed (without being preachy). This book, while not specifically for new moms, will no doubt be a great long-term resource for any new parent. It's packed with advice for everyday parenting problems but written in a friendly style. One thing I appreciate about Dr. Becky's work is that it is centered on fostering a strong parent-child connection that is ultimately the foundation of our parenting journey.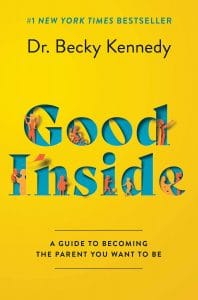 Cribsheet: Data-Driven Guide to Better, More Relaxed Parenting, from Birth to Preschool
I've been reading author Emily Oster's email newsletter for a while now and always find it insightful and well-written. This book is no less compelling and helpful for parents. Even among research-based parenting books, I think Oster's work stands out because she is so thorough in her examination of the data, with all its nuances and caveats. She really delves into each of the issues in the book (e.g., breastfeeding, infant sleep, feeding, milestones, and more ) and fully examines what we know from the research. With this in hand, she's prepared to offer parents realistic and helpful tips to inform their decisions.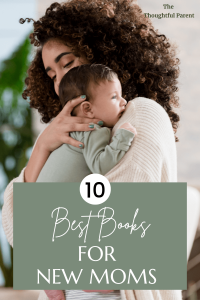 This isn't like the other books for new moms. It's not so much one to read but to write. Each month it provides prompts for short ideas to write about to your baby. It's kind of like a baby book but even better and more meaningful. New parents can write to their baby about their new experiences, feelings, and discoveries as their baby grows. This is such a meaningful idea!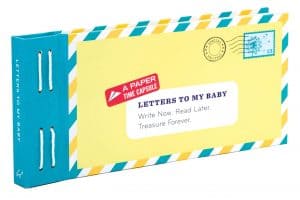 With the overwhelming amount of research available on all aspects of infant development and parenting, how is a parent to make sense of it all? Just read this book instead! Author Tina Payne Bryson has done this tedious work for you. She's a well-respected scholar and parenting book author so parents know they can trust her judgment and interpretation of the research. This book addresses so many topics that new parents often have questions about: breastfeeding, sleep habits, allergies, potty training, screen time and so many more. This book was obviously written with new parents in mind because the topics are addressed in clear, concise chapters that are clearly labeled by topic or question. This is the "user's manual" every parent wishes they had when they bring home their first baby.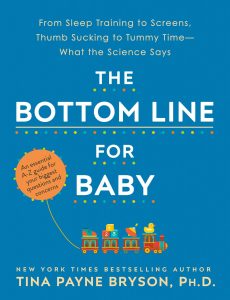 Tender Beginnings: Child Development Reflections and Guidance for New Mothers
After becoming a mother myself, I began to reflect on the mixed emotions and dramatic changes this transition brings with it. Soon, I knew I had to write the book that I wish existed when I was a new mom. With this book, I bring together the child development information moms really need in those early months along with guidance and support for moms' own emotional journey. This book walks with moms week by week for the first 6 months of their baby's life and provides knowledge and reflections. (available in digital or print format. Also available to read on the Kindle)