Since the pandemic hit several months ago many of us have been working from home with kids more than we ever thought possible. The challenges are real. Trying to balance work time with kids in the same house asking questions, begging for snacks, and needing our attention is not for the faint of heart.
Luckily, more and more resources have emerged in recent months to help us. Fellow parenting writers Karissa Tunis and Shari Medini are very experienced with this topic having worked from home (with multiple children each) for many years. I sat down (virtually) with Karissa and she answered many of our common questions about working from home with kids.
Q & A with Karissa Tunis, Co-author of 'Parenting While Working From Home'
Working from home as a parent with young kids definitely has its challenges, but it can also be a great experience! You get to take your breaks with the tiny people you love, and you can work in your favorite sweatpants. But it is a juggling act. Below are some of the most common questions we often hear.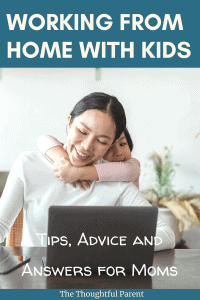 This post contains affiliate links. Purchasing through these links provides a small commission to me (at no added cost to you).
How do you set boundaries on your time working when you have kids who are also home? 
This is a great question! As a mother of four that also works from home, this is a constant juggling act that I encounter every day as well. First, let me assure you that it does get easier as they get older. But my biggest piece of advice is to just embrace it. Embrace this phase of life that you are in because you won't get these days back with your little ones. 
But to answer your first question on how to set boundaries, I have learned that it is always easier if I set the kids up first before diving into my work.
If you do not meet the kid's needs first, then you can expect them to constantly interrupt. Have you ever found yourself repeating "Just give me 5 more minutes" over and over again? This doesn't help you be very productive, or put out your best work. And then your kids are also not getting what they need either. But when you set your children up first, they will be much more content and will hopefully allow you a longer chunk of time to work.
Look for toys buried in the playroom that they haven't played with in a while, or bring out an old bin of toys from the attic. Give them a few snacks and sippy cups, and they will hopefully be good to go while you keep an eye on them from across the room. Once they get antsy, take a little break and run around outside with them for a few minutes, and then redirect their attention elsewhere. And after you all enjoy eating lunch together, nap time or quiet time can give you another chunk of time to focus on your work.
If you have children at home with no extra help, there will be interruptions – it's inevitable. So embrace it. Appreciate the breaks here and there, enjoy your playtime together, and try to be productive in the blocks of time that daily life allows. Each season of life might need to look a little different, but that's okay.
How do you focus on work without hurting your child's feelings?
I have learned that talking to my kids about my work has made a huge difference in the way they viewed me sitting at my computer. Instead of feeling neglected, they were incredibly encouraging and understanding. Just like I ask them about their day, they now ask me about mine. We discuss their likes and struggles, and I tell them about my work projects as well. 
Obviously, the older your child is, the more you can explain and tell them. But even from a young toddler age, I began telling my kids how important it is for mommy to work so that I can pay for our house, their toys, our food, etc. They know that I need to work to make money, and they know I also enjoy what I do. So we talk about it, and they get very excited for me when I accomplish a new project and show it to them – just like I oooh and awww over their artwork 🙂
How do you limit/manage your kid's screen time?
This is a battle that I am sure the majority of parents out there are struggling with! But unlike a lot of parents, I don't have a strict daily limit. If the weather is nice we spend as much time as we can outside. So on rainy days, or if there is an afternoon where I am trying to meet a deadline and the kids aren't playing as I had hoped, then I let them have a little more screen time. In the end, I think it balances out. 
Also, iPads today offer so much more than our TVs did when we were young. Just because I allow more screen time here and there doesn't mean they get to just sit and watch pointless videos. I will also suggest different apps that offer educational games. Maybe they have a book read to them, work on their letters and numbers, and then get to jump on kidstube to watch an episode of their favorite show.
Related reading: Outdoor Challenges for Kids: The Perfect Way to Keep Them Unplugged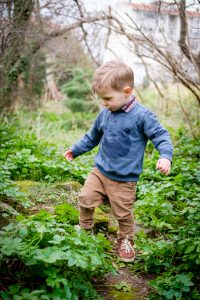 How do you ensure that your kids get enough attention?
Each day I pick a daily focus. I choose between the kids, the house, or my work.
Of course every day you will have housework that needs to be done, professional work that needs to be addressed, and children that need tending. However, picking one main focus for the day has really helped me to be more productive while working from home. If I need to get more done around the house, then that is my focus in between everything else. I'd start a load of laundry here, unload the dishwasher there, wipe down the bathrooms during nap time, and so on. But if my focus needed to be on a work task, then I let those things go and use any spare moment to accomplish what was needed of me professionally.
It really is about quality over quantity. While we are with our kids all day every day, we are not always spending that quality time with them. So I try to consistently have a kid-focused day where I plan something fun or special with them. It doesn't always have to be an outing that costs money. 
Sometimes we schedule a block of time to go to the playground, or meet-up with some of their friends. Or we might just relax at home and work on puzzles, play a game, or color. We love turning on fun music, grabbing our favorite snacks, and spending quality time with one another. I ask them silly questions, and they'll tell me funny stories. Kids won't remember how spotless the house was, or how many deals you closed, but they will remember how much quality time you spent with them.
How do you find time for self-care or alone time for yourself?
Finding time for yourself is more challenging when you have little ones that always seem to need your attention. But finding time for yourself is not impossible. You just need to now be more strategic with making those smaller moments count.
Grab Amy's list of Self-Care Activities for Moms (that you can do with kids around!) (see the form at the end of the article)
I recently wrote an entire article that shares tips for making those smaller moments count and offers suggestions for self-care that you can give yourself in the morning, in the afternoon, and in the evening. By picking a few, or all, of these to do each day, you will be meeting your needs along the way as you tackle your mile-long to-do list.
Related Reading: Self Care Ideas for Busy Moms
Looking for more on this topic? We wrote an entire book about it!
Parenting while Working from Home: A Monthly Guide to Help Parents Balance Their Careers, Connect with Their Kids and Establish Their Inner Strength is now available for purchase.
Parenting experts and founders of the popular website, Adore Them Parenting, Karissa Tunis and Shari Medini share actionable tips, heartfelt insight, and planning strategies to help you enjoy your own parenting journey while working from home.