Sneak peek: We all know that children (and teens) have periods of rapid growth. But when can we expect these growth spurts? Let's take a look at common growth spurt ages and how they can impact your child's behavior.
I read quite a bit, especially mystery novels or anything that has an unexpected twist. Maybe that's why I often like to think about child development in terms of a story. The story of your child's life. There are plot twists, unexpected occurrences, and a fair bit of unpredictability (much to our chagrin as parents).
I've written before that I think a child's temperament is much like the setting of a story. The setting influences the storyline but it is often unnoticed or overlooked. Temperament is much the same. It can have a huge impact on your child's development but its influence is often overlooked. 
Similarly, I think growth spurts in children's development serve as another overlooked feature of a child's story. The ages of growth spurts in children are often unclear to parents.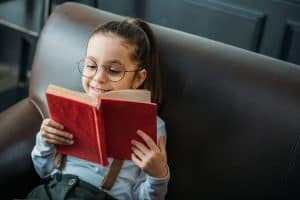 I've written about growth spurts several times on this blog but I keep returning to them because they are so fascinating. In part because I think understanding them helps take some of the pressure (i.e. blame) off us as parents. Our children's development is progressing in a fashion that we often have little control over as parents. We can't control when our child has a big cognitive leap and learns a new skill. We can't control that our toddler is super cranky because they are learning a new skill (like walking) and are having trouble sleeping.
As parents, we tend to blame ourselves (or sometimes pat ourselves on the back) for all our children's behavior. Of course, we do influence our children's behavior and choices but they are not robots. They have free will and often behave in unexpected ways that have nothing to do with our parenting skills. Growth spurts are a perfect example of that.
In literary terms, I think of growth spurts as sort of like a subplot. It's running underneath the main plot and it may not even be noticed but in some ways, it is affecting the story. We can't really control at what exact age our child hits puberty (there's a range of typical development). We can't control the fact that our child may end up being a foot taller than all their classmates for that one year of middle school and that developmental occurrence influences their entire school year.
Although we can't control them, common growth spurt ages are helpful to understand. If we have a sense of the subplot, we might gain a little more insight into our child's story.

What is a growth spurt?
Typically, when we hear the phrase "growth spurt" we think of our children's physical growth. You know those stages where you seem to be buying new pants and shoes for your child every month? Children definitely go through periods of rapid physical growth, especially in height, weight and sometimes foot size.
Beyond this physical growth, there are periods of cognitive growth as well. These are sometimes called "developmental leaps." You may have seen this in your children as well. As toddlers, one day they may only know a few words and then seemingly overnight their vocabulary expands to dozens of words. These developmental leaps can be just as dramatic and important as the physical growth spurts.
Related reading: Finding Meaning in the Mayhem: How to Spot (and Survive) a Toddler Growth Spurt
Growth Spurt Ages
The question that many parents often have is, of course, about the ages at which growth spurts occur. As parents, we often like to know when our children will experience these big spurts in development. If you've experienced your child's growth spurt (or developmental leap) in the past, you know these periods can be a little tumultuous. During this time, children are sometimes cranky, have trouble sleeping and are altogether not themselves.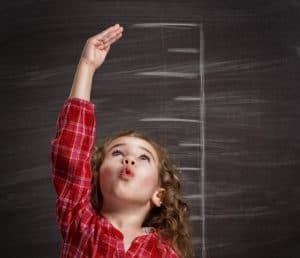 Physical growth spurts
As with all aspects of child development, each child is unique. The charts and guidelines offered here (and by doctors) are based on averages of thousands of children. But every child follows their own unique developmental path. If you ever have concerns about your child's growth and development, ask your pediatrician.
Age birth to 2
The first year of a child's life is a period of rapid growth. This could be described as a child's first big growth spurt. It's an amazing amount of physical and cognitive growth. For example, on average by a child's first birthday, they have grown about 10 inches in length and tripled their birthweight.
Childhood
Starting around age 2, this rate of growth tends to slow a bit. You may find that your toddler's eating habits change during this phase. Toddlers often eat very small amounts at each setting but may need to eat many times a day (every 2-3 hours). Some toddlers become more picky eaters or change their food preferences often. These habits are all typical of toddlers. Eating and food choices are one area of life that toddlers have some control over so they use this as a way to exercise their independence.
As your child approaches 4 or 5 years of age, the food pickiness may lessen. Although there typically aren't any major growth spurts in early childhood, you may notice times when your child seems to be growing faster and eating more. Throughout early childhood, children continue to grow at a steady rate.
Pre-teen and teen years
We are all familiar with the big growth spurt that adolescents experience as they go through puberty. Although girls and boys experience these growth spurts at slightly different ages, they can both be dramatic.
For girls, their growth spurt tends to happen from ages 9 to 15; for boys, it occurs from ages 12 to 17. These are wide age ranges so the age at which your child may experience their pubertal growth spurt can be different from their friends or classmates. During this adolescent growth spurt, children can grow up to 3 to 4 inches in a relatively short amount of time.
We've all heard the stereotype that teens tend to become more clumsy or uncoordinated during this time of rapid growth. Well, it turns out this idea may have some truth to it. At least one study found that among teen boys, the rapid physical growth is associated with a temporary loss of coordination. It seems that it takes a while for boys' brains to "catch up" with their rapidly changing physical dimensions. In the meantime, they may be a little more clumsy.
Cognitive Growth Spurts
In addition to all the physical growth children experience, there are substantial cognitive changes that happen during childhood and adolescence.
Birth to age 2
Researchers estimate that from birth to age 3, children's brains are making 1 million neural connections per second! That's amazing. This fact is why these early childhood years are so important for their long-term development. During these early years, children learn through their experiences and in connection with loving caregivers…like you.
You can see evidence of a baby or toddler's cognitive growth on an almost monthly basis. As newborns, many babies' responses are based on reflexes or basic needs. But even at 6 or 8 weeks of age, you can begin to see them interacting more with you (smiling!) and more interested in the world around them. This progression continues with babies becoming more engaged and interactive throughout the first 3 years of life.
Childhood
Although cognitive growth slows a bit after age 3, children's brains are still "under construction." At different ages during childhood, children's brains are ready for certain learning tasks.
For example, from about ages 3 to 6, children's brains are developing more in the frontal lobe–the area of the brain that controls things like organization, planning, and attending to tasks. This is perhaps why this is the age when children typically begin formal schooling. Their brain is beginning to have the ability to focus more and organize information.
The next phase of brain growth (from age 6 to puberty) focuses on the temporal and parietal lobes of children's brains. These areas help control functions like language and spatial understanding. Scholars suggest that this is why is it so much harder for older children and adults to learn a new language, whereas young children can pick up new languages easily.
Spatial understanding, of course, is how we understand shapes and objects in three-dimensional space. Does your 6 or 7-year-old LOVE Legos? This may be why! The part of their brain that makes sense of spatial relations (like how blocks fit together) is developing rapidly right now.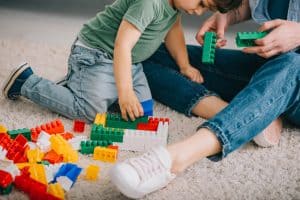 Pre-teen and teen years
Although most parents are aware of the big physical growth spurt that happens during adolescence, fewer may be familiar with what's going on in teens' brains. It's easy to think of teens are almost-adults. In many ways, they can seem quite mature. It's helpful to understand, however, that teen brains are still not quite like adult brains yet.
Puberty propels teen's brains into a whole new phase of development. During this time, the prefrontal cortex is becoming more refined. Unused connections are being pruned and stronger connections are formed. This area of the brain controls things like emotional regulation, planning, and thinking ahead. This means that the teen years can be a crucial time to help adolescents develop these skills. This may also explain some teens' notorious behavior – proneness to risk-taking and poor decision-making. The part of the brain that controls these skills is still being refined. The key point for parents, however, is that this can be a perfect time to help teens work on these skills and solidify them before adulthood. Along those lines, one researcher stated, "The teenage years are a kind of critical time to optimize the brain."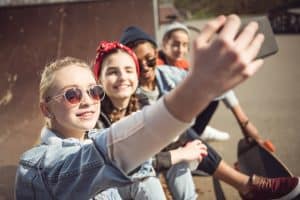 If all this discussion of growth spurts makes your head spin, don't worry. The key piece to remember is this: child development is more like a roller coaster than a smooth path. You and your child will have ups and downs. The subplot of growth spurts may mean that your child's story is not linear. One day it may seem like they have mastered that new skill like keeping their homework organized or remembering to brush their teeth each day. The next week, they may be forgetting all those things. This is the nature of child development.
If we look at our children's journey in this way, it's a little easier to have reasonable expectations and empathy for them.