We all know the developmental benefits of breastfeeding so many of us have endured breastfeeding struggles, pain, shame, and eventually pushed ourselves beyond our limits to provide what we think is best for our babies. But what if it wasn't just the milk that provided these benefits? A new look at breastfeeding based on the latest parenting research.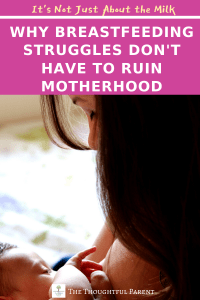 More Than Just the Milk
What specifically is it that has the most benefit for babies in regards to breastfeeding? Researchers have been studying this more lately. Most of us have assumed that actual substances in the milk help improve brain development. However, there is a nurturing aspect too.
Others have wondered if the mother-child bond facilitated by breastfeeding helps infants' development. While these factors may be at play, one particular study showed that breastfeeding was associated with two important parenting practices: (1) responding to children's emotional cues, and (2) reading to children as early as 9 months of age.
Using a national sample of 7,500 mothers and their children from birth to age five, this study showed that mothers who breastfed were more likely to practice these crucial parenting skills. These parenting practices, in turn, were associated with greater reading readiness by age 4.
I find these types of studies fascinating because they accomplish what social science research is all about—uncovering the underlying explanations for the "attention-grabbing" headlines we often see in the media. While I am a huge proponent of breastfeeding, it seems that mothers who do not breastfeed are often chastised in the media or public due, in part, to all the research showing the developmental benefits.
*This post contains affiliate links. Purchasing through these links provides a small commission to me (at no added cost to you).
Until now, it was assumed that the benefits of breastfeeding were delivered through the milk itself, but this research shows that it is not just about the milk. In other words, if non-breastfeeding mothers can be responsive and exercise these positive parenting strategies, many of the same benefits can be passed along to their children as well.
In other words, one of the best things for our babies, in addition to breast milk, is a fully present, responsive, healthy mama.
My Breastfeeding Story
I came to this realization after many breastfeeding struggles myself. My first son had difficulty latching. We met with lactation consultants, hospital staff, etc. but I realized it would probably just take time for him to learn. After about six weeks of nursing every two hours, I hit a physical and psychological wall. I knew I had to get some sort of break, so I asked my husband to take one feeding per night using formula. I had tried pumping but it took multiple sessions to get enough to fill a bottle. We persisted and he ended up doing well with a combination of nursing and formula for the remainder of his infancy.
With my second son, I was prepared for the challenges at least but still hoped that more experience would make it easier. It was not easier, but I did have the hindsight to know that it would all work out okay in the end. With him, I endured six solid weeks of piercing pain when he latched, bleeding nipples and assorted other problems. But, just as I had imagined, it all worked out okay in the end. Once we both got the hang of nursing, he was a champ and did not wean until he was almost two years old.

Breastfeeding Struggles: The Bigger Picture
What this research points to is the bigger picture of breastfeeding and child development. For years, scientists have framed breastfeeding at a stand-alone practice that benefits babies' development. What this type of research shows us, is that we cannot consider breastfeeding in isolation from all the other aspects of parenting. Yes, breastfeeding is beneficial. But so is eye contact, talking to babies, being responsive to babies' cries, reading to children, etc.
What this research also brings to mind is the emerging line of research showing a link between breastfeeding struggles and moms' mental health. This article, for example, quoted some results from this emerging research,
"One large study of over 2,500 women found that women who had negative breastfeeding experiences were more likely to have symptoms of depression:

"Compared with women with no early neonatal signs of breastfeeding difficulty, we found that women who had negative feelings about breastfeeding and reported severe pain while nursing soon after birth were more likely to experience postpartum depression at two months."
It seems many moms, much like my experience, are pushing themselves to the point of psychological distress in order to "succeed" at breastfeeding. The guilt and shame often associated with not breastfeeding take a toll on many mom's psychological health.
Breastfeeding Problems and Finding Balance
From a developmental point of view, we know that the mother-baby bond is developed slowly, over the course of months in a subtle, beautiful fashion that involves the close observation of the mother reading the signals of her baby as he/she adapts to the world.
If moms' mental health is compromised due to severe breastfeeding struggles, this bonding process is even harder to establish. If we can begin to look at breastfeeding as only one important aspect of the early motherhood process (not the ONLY aspect) then we can begin to regain some balance. A mentally healthy mom can be a responsive, sensitive mom. Finding some balance between the desire to breastfeed and still remaining psychologically healthy is a difficult balance to find at times and it's different for each mom. This balance, however, is what we should focus on for new moms, not simply a certain "breastfeeding goal."
Healthy, responsive parenting can reveal itself in a variety of ways, most of which center on the
relationship
with each unique child. Feeding your baby is a lovely part of that relationship, but it is not the only piece. The pieces are woven together over years of feeding, bathing, reading, listening and lots and lots of patience.
Related reading: Colic: Symptoms, Tips and Reflections from Science
Perfect for Pinning: