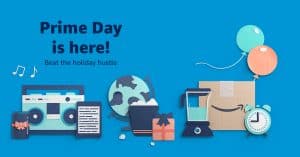 If you've been a parent for any length of time you know that raising kids involves a fair amount of "stuff." Although many of us (myself included) try to keep things as simple as possible, kids do need things–clothing, a few (well-selected) toys, gear for school, etc.
When it comes to the "stuff" of parenting, Amazon has become my go-to over the years. Dragging kids around through a physical store is not my idea of fun so I avoid that if possible. Plus, with free shipping, it's hard to pass up the convenience.
If you haven't joined Prime, this is the time of year to do it. You can even just sign up for the 30-trial membership if you're uncertain.
This is the best time of year to sign up because Prime Day is October 13-14 this year. Since I'll be scanning for deals anyway, I've decided to post any parent-friendly items here in case it might help some of my readers as well.
*This post contains affiliate links. When purchasing through these links, I receive a small commission at no added cost to you. Thanks!
Live Prime Day Deals
For Kids
Kids Against Maturity— a fun family ga
Doctor's Kit–pretend play is awesome for young children
Prime Climb–a fun learning game (our school district actually uses this one!)
Magnets–hands-on science learning (with no screens!)
Magnetic Blocks–these are always a hit with kids
Playskool Dressy Kids Girl Activity Plush Stuffed Doll–a fun way to teach kids to do zippers, buttons and snaps
Outdoor Explorer Kit–encourage outdoor play and exploration
Ladder Toss Game–this could be great for indoor winter fun or outdoors in warm weather
Fire 7 Kids Edition–great kid-friendly games and learning apps (and it won't break)
For Parents
Chore Sticks–a creative way to encourage chores with kids
Echo Dot–never thought I wanted one but once we got one as a gift we use it all the time (50% off)
French Press Coffee Pot–we've gone back to French Press and we'll never go back to regular coffee again. So good!
Contigo Water Bottles–you can never have too many good-quality water bottles for you or the kids
Resistance Bands for Exercising–a fun way to avoid the "pandemic 15" weight gain 🙂