Last Updated on
{Looking for a preschool tour checklist to guide you as you visit schools? This checklist helps parents pick the perfect preschool for their child.}
One quick Google search turns up many variations of a preschool tour checklist. As a parent looking for a preschool for your child, this can be a bit overwhelming. What I have found is that most of these checklists focus on the most basic aspects of preschool operation. Of course, we parents want to make sure our children will be safe so concerns like emergency procedures, CPR training, etc. are important. Similarly, basic statistics like the staff-to-child ratio and class size are good to know too.
When it comes to picking a preschool that fits for your child and their developmental needs, however, many of these preschool checklists for parents fall short. In a sea of preschool choices, how do you really know which ones are developmentally appropriate and effective in helping kids learn the skills they need to learn?
Related reading: The Hidden Effect of Early Childhood Education Programs
After much research and reading, I've developed a preschool tour checklist that views choosing a preschool from a more developmental perspective. Research continues to point to the idea that a play-based learning approach is most appropriate for preschoolers. This play-based approach, however, does not mean chaos. Under the guidance of skilled teachers, preschoolers in a play-based setting learn through meaningful play scenarios that teach not only basic knowledge like numbers and colors but valuable social-emotional skills. The preschool checklist for parents (below) is designed to help parents assess the degree to which the school they're touring is developmentally appropriate based on this play-based learning approach.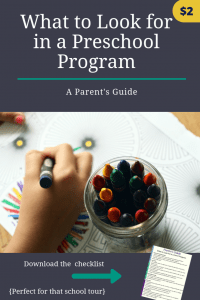 Questions to Ask on a Preschool Tour
The preschool tour checklist above is primarily focused on the teaching approaches, social-emotional learning and physical environment of the school. As a parent, it's always helpful to consider what other questions you might want to ask the preschool staff related to your particular child:
consider your child's temperament (i.e., introverted, extroverted, sensitive, etc.) and ask how the staff feels children of this temperament fit in their school
consider any special needs or behavioral tendencies your child has and ask how these issues might be handled at school
basic information about staff-to-student ratio, safety procedures, etc.
procedures for drop off and pick up times–what role do parents play in helping kids transition to preschool?
Choosing a preschool for your child involves considering many factors. Hopefully, this preschool checklist will help guide you in making this decision.
Related Preschool Resources:
Pin for Later: