Many of us were expecting it, but the day has come when most of us are experiencing school closures due to the coronavirus pandemic. Like many of you, my head has been spinning with ideas, plans or concerns about how to keep my kids engaged, learning and at least somewhat occupied while at home for weeks. Although I'm typically a proponent of hands-on play and learning over screen-based options, I recognize that we as parents can only do so much. If you are trying to work from home, online learning can be a helpful option to keep kids engaged in education. At least many of us have access to many wonderful online educational resources to help us.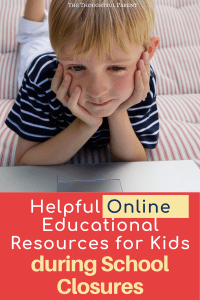 I've seen many links circulating online for various educational options so I thought I'd put them all together in one post as a resource for you. I'll be updating it often as new opportunities arise.
As much as we enjoy spending time with our kids, I think most of us feel the strain of this situation. My kids love school and miss their friends. It's been helpful for me to keep in mind the bigger picture of community health and hospital resources. I've even talked with my older son (age 10) about these bigger issues and how our relatively small inconvenience is hopefully helping others in our community stay healthy and health care staff be able to serve those most in need.
*This post contains affiliate links. Purchasing through these links provides a small commission to me (at no added cost to you).
Online Educational Resources for Kids
This spreadsheet of resources has been circulating on Facebook. It's a helpful place to start. I'll link to these resources here too but refer back to this sheet or the groups listed in the document for ongoing updates.
Circle Time: online classes with real instructors on topics like social-emotional learning, yoga, interactive storytime (geared to ages 0-6). Use code: homefun1 for free access.
CK-12: online content for a variety of subject areas include math, science and social studies. Some text and some video. Most of it seems to be free.
Conjuguemos: online learning for foreign languages, including Spanish, French, German, Korean and more. Choose the "use without account" option.
Related reading: Why Guided Play is the Secret to Playtime with Your Kids
Vidcode: an award-winning coding learning platform for 4th-12th grade. They offer camps and classes to help kids learn to code. A smart way to use screen time!
Curriki: tons of free online content for grades Preschool-12. Includes text and videos
Generation Genius: Online science lessons for elementary-age kids. They cover all sorts of topics including animal structure, bacteria, engineering and weather.
Freckle: online content for math, science, English and social studies. Free account available.
HippoCampus: online learning for middle school to college-age students; covering 13 subject areas. Free
Izzit: free online videos on a variety of educational topics including economics, government, health and social studies.
PBSLearning Media: PBS-quality educational videos. Free
Dad's Worksheets: If your child needs help with math (uh, yes, I don't remember how to divide fractions), then this site can help. They have a growing collection of printable worksheets, online calculators, games, puzzles, and tools such as timer and converter… All of these are completely FREE.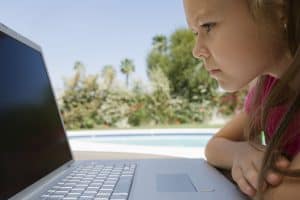 Khan Academy: well-known, high-quality online learning videos and text for students. Free.
Mystery Science: fun online question-and-answer style videos. Free
Scholastic Learn at Home: this is such a fun resource! It has day-by-day online videos, books and other learning resources focused on a different topic each day like insects, weather, history, etc. Free
Storyline Online: books read by top actors (like Kristen Bell and Kevin Costner) with wonderful little animations. My kids are loving watching these at snack time.
Typing Club: online typing lessons for kids. (I'm definitely going to use this one!) Help kids learn a new skill while they are at home. Free

Google Arts and Culture: virtual tours on famous museums, national parks and landmarks

Varsity Tutors: this awesome site is offering an amazing array of FREE online classes on everything from history, math, video games, animals, to science and everything in between. So many great options for fun learning.
Your Story Hour: stories of famous historical figures read and acted in the style similar to the old fashioned radio dramas of the past. Free stories releasing each week.
The Kid Should See This: looking for an alternative for YouTube for cool, educational videos that kids will actually enjoy? I just found this site and I'm already loving it. Really fascinating videos on topics like animals, science, space and more. Kid-friendly and you don't have to worry about questionable videos like on YouTube.
Other Fun, Educational Resources for Parents and Kids
Common Sense Media: this is one of my go-to sites for checking out the quality of apps, games or movies. See their list of educational apps and games.
Nancy's Music Room: educational, developmentally supportive music. Songs for all kinds of subjects and themes, with a focus on nurturing children's feelings, self-regulation, emotional development, and self-esteem. She's now hosting live, 1/2 hour baby/toddler music and movement classes in "Nancy's Music Room."
Meditation Apps: Common Sense Media also has a great list of meditation apps for kids and adults. I know I'll be using some of these for myself too!
Brave Writer: many great resources for encouraging writing at home. I just signed up for the 7-Day Writing Blitz to help my boys continue to write in their journals. Many resources are free until April 30.
50+ Easy Indoor Activities for Kids: this is a great post from the folks at Hello, Wonderful. Fun, simple ideas to keep kids occupied.
Big Life Journal resources: This site is wonderful for both digital and physical resources for supporting growth mindset and social-emotional skills. Their flagship product is the wonderful Big Life Journal for kids. They are also offering 50% off printable kits on topics like Challenges, Resilience, and Growth Mindset.
Take care everyone and stay safe! Feel free to reach out to me if you need parenting resources or support. I'm here to help.