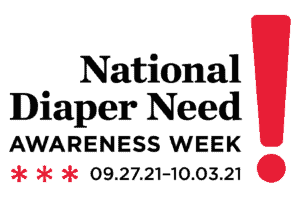 Imagine with me for a moment that you are a mom with an infant (most of us have been there). You are working one (or possibly two) jobs to try to make ends meet. Your baby has to go to a childcare facility so you can work. Even with all this working, you need government assistance to keep food on the table. You go to the store to get some groceries and diapers. At the checkout you realize that the government assistance vouchers do not cover diapers–what do you do? Buy food for your child or diapers? Without a day's worth of diapers, your child cannot attend childcare. If she doesn't go to childcare, you cannot go to work.
This is not an unrealistic scenario from another country. Situations like this happen in the United States every week.
In our country 1 in 3 moms report experiencing diaper need.
Diaper Need Stats
5.2 million children in the U.S. aged three or younger live in poor or low-income families.
Disposable diapers can cost $70 to $80 per month per baby
No state or federal child safety-net program allocates dollars specifically for the purchase of diapers.
Without transportation, buying diapers at a convenience store rather than a large "big box" store can significantly increase the monthly cost of diapers.
This may seem like a simple issue but it really affects the health, education, and well-being of the baby and his/her whole family. In most places, without a week's worth of disposable diapers, babies cannot attend a childcare facility. If they cannot go to childcare, a whole line of negative consequences follows. By missing out on early childhood education, they are missing out on opportunities to be better prepared for preschool and kindergarten. Furthermore, if babies cannot attend childcare, then many times their parents cannot work. Without work, they cannot even have a chance to lift themselves out of poverty.
There are many ways we can help prevent diaper need in this country:
– donate diapers to your local diaper bank, pregnancy center or food pantry on a regular basis (babies go through 6-10 diapers a day)
– share the #diaperneed hashtag in your social media interactions. This is an issue that needs more attention and something that many people probably had not thought about.
– host a diaper drive in your church, moms group, playgroup, school, etc.
– volunteer at a local diaper bank (go to www.nationaldiaperbanknetwork.org to find one in your city)

Let's help babies have a good start in life and in education.