Whether you've been a parent for 10 minutes or 10 years, you know there is a lot of misinformation and "old wives' tales" out there about parenting. In an age where everyone thinks they are a parenting expert, myths about early childhood development are prevalent.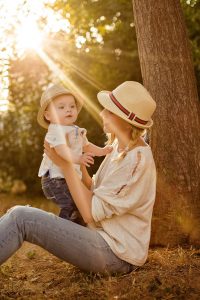 Myths about early childhood development are not just annoying; they can make life harder for us. As parents, if these myths provide us with unrealistic developmental expectations or misinformation about children, they can inadvertently set us up for disappointment. If we feel our children are not behaving in the ways which we thought were "normal" then we might become discouraged and feel like bad parents.
Related reading: Raising Compassionate Kids: The Role of Nature and Nurture
Common Misconceptions about Child Development
The key to overcoming common misconceptions about child development is to turn to research. With research as our guide, we can not only look past the myths but begin to feel more confident in our parenting decisions. Delving into child development and parenting research isn't about finding the absolute "right" or "wrong" way to parent but rather learning to see our children with a new lens. A lens of understanding and insight. A lens that will help us see their behavior in a new light. Hopefully, with this lens of research, along with your own intuition, you can help your child reach their fullest potential.
From sleep to spoiling, spanking and attachment, this guide helps you look past the myths and get to the facts…all based on real child development research.
Myths About Child Development (included in this guide)
play is frivolous and doesn't matter
spanking is an effective form of discipline (ugh I can't even type this one without feeling sick)
attachment theory and attachment parenting are the same
you can spoil a baby by holding them too much (another one I can't stand to write)
fussy, high-needs babies turn out to be difficult children (another one that makes me sad)
Get Your Copy Now!
Parenting in today's world means that we use both our innate intuition and current (accurate) child development research. Our own experience is a valuable teacher but research can help us feel confident in our parenting decisions.
Take the first step on this journey of research-informed parenting by grabbing this cheat sheet.
Pin for later: