Sneak peek: What is attachment parenting? How does it differ from attachment theory? A simple introduction to attachment parenting.
The first time I was introduced to the concept of attachment parenting, I was sitting in a meeting room at a new mom's group. I had been a mom for a total of about 2 weeks. I was nervous sitting in this room of moms who seemed obviously more comfortable and adept with babies than me (or so I thought). Although I had an advanced degree in Human Development, my own son was still a bit of a mystery to me. We were still getting to know each other in many ways.
Of course, I knew quite a bit about attachment theory from grad school. We had watched all those grainy videos in class of the Strange Situation and learned how the experiment was used to assess attachment in young children. Intellectually I understood that. I also knew I was striving, even in these early days, to establish a secure attachment with my son.
But this group of moms wasn't talking about that…they were talking about things like co-sleeping, babywearing, breastfeeding and other issues that, to my mind, didn't relate to the attachment theory that I had learned.
Related reading: The Thoughtful Parent's Guide to Attachment Theory
Fast forward a few years (and another baby) later, I now have a much better understanding of the relationship between attachment parenting and attachment theory. They are often confused and misinterpreted, especially among first-time parents. It's not surprising to see why. Here's the lowdown: attachment parenting and attachment theory are NOT the same. To help any new parents out there avoid the confusion I faced, here's what you need to know about all things attachment in early childhood.
* This post contains affiliate links. Purchasing through these links provides a commission to me (at no added cost to you).
What is Attachment Parenting?
In general, the definition of attachment parenting centers on a style of parenting meant to establish a secure attachment with your child. The phrase "attachment parenting" was developed primarily by Dr. William Sears and puts forth several principles for infant care including:
birth bonding
babywearing,
breastfeeding and
bedding down close to baby (plus a few others)
Although Sears says that specific practices such as babywearing or co-sleeping are not "rules" of attachment parenting, they are generally encouraged and supported in the literature. The overall approach focuses on sensitive, responsive caregiving.
Related reading: A Parent's Guide to the 4 Attachment Styles
This style of parenting is loosely based on historical and evolutionary parenting practices that humans have practiced for thousands of years. Attachment parenting supporters point out that in the historical development of caregiving, mothers have often slept near their babies, breastfed for long periods, and kept babies close to them at all times using wraps or slings. Thus, the implication is that attachment parenting is the most "natural" approach to caring for an infant.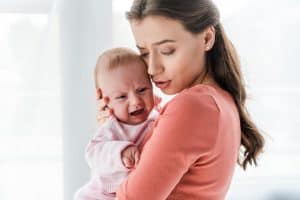 Misinterpretations of Attachment Parenting
Now that we know the basics of what attachment parenting is all about, let's consider for a moment what it is not. This is where the distinction between it and attachment theory really comes into play.
Attachment parenting is not the only way to establish a secure attachment with your child.

At its heart, secure attachment is about the emotional attunement and relationship with your child. This attunement is established over months (and perhaps years) of carefully observing and responding sensitively to a child's needs, especially during infancy. This responsive position is not to be confused with an intrusive position. Responsive implies hearing a baby or child's cry and figuring out what they need; not what you want to provide.
The best explanation I've seen of this distinction comes from an excellent blog post on this topic by Parenting Science:
"For instance, babies often make noises during brief moments of waking during the night. They may also vocalize when they are sleeping. If parents misinterpret these sounds and rush to feed a baby, they are needlessly depriving everyone of sleep — and perhaps teaching the baby to awaken frequently at night!
So if we define "attachment parenting" as a kind of frenetic attempt to deliver fast responses (including unnecessary intrusions that prevent babies from developing patterns of consolidated, nighttime sleep), we have little reason to think this would benefit families."
This is just one example, but it shows a very subtle, but important distinction often overlooked by attachment parenting proponents. Being responsive to an individual baby means that secure attachment might look quite different from one family to the next or between children in the same family. I go further into this distinction using my own sons as examples in this article on attachment theory.
While attachment parenting can promote secure attachment in many ways, it's not the only way to get there. Theoretically, a mom could breastfeed her baby but be distracted by her phone the whole time and this is doesn't exactly promote attunement. On the flip side, a mom could bottle feed their child in a very responsive, attuned way and still promote secure attachment (and attachment parenting literature has mentioned this as well).
Attachment parenting is not meant to be a strict set of parenting rules.

While Dr. Sears sets out guidelines (the 7 Baby B's) for attachment parenting, they are not meant to be strict rules. This is the aspect of attachment parenting I feel has been misrepresented in modern parenting culture. Just as I heard from that first mom's group I attended, some subgroups of parents have made attachment parenting all about "the rules" instead of about responsiveness and attunement. This is how attachment parenting has become (in some circles) another way of parenting shaming. Those parents, particularly moms, who don't follow the "rules" regarding co-sleeping, babywearing and breastfeeding are sometimes made to feel inferior as parents.
Attachment parenting is not synonymous with attachment theory

This was the biggest "aha moment" for me early in my parenting journey. Having studied attachment theory, I knew that attachment parenting didn't exactly mean the same thing. While Dr. Sears and other attachment parenting gurus have drawn heavily on attachment theory, some of the subtle details have been lost in translation through parenting culture.

For example, one key component of attachment theory is the idea of a "secure base." This concept means that, over time, a young child relies on their attachment relationship with their parent (or caregiver) as a base from which to explore the world. In other words, securely attached children are not, by definition, "clingy." In fact, many kids (although not universally true) with a secure attachment explore quite fearlessly from their parents for a time and then usually return to "check-in."
Another distinct part of attachment theory that is often "lost in translation" to attachment parenting is the concept of discord. Attachment theory does not require parents to be perfectly attuned all of the time to their baby in order to establish secure attachment. Quite the contrary. Built into the theory is the idea that small periods of lack of attunement happen quite frequently. Perhaps you thought your baby's cry meant she was hungry when, in fact, she was tired. Or maybe you were driving and were a little delayed in feeding your baby so she started crying. These little misalignments in attunement, if repaired, actually serve to further the attachment relationship. Through the recognition of the misattunement and correction of it, parents gain further insight into their babies' cues and signals. Babies gain a sense of agency that their actions and cries make a difference to those who care for them. These moments of discord, then, actually serve to strengthen the bond.
While there are differences between attachment parenting and attachment theory, the big picture remains the same—secure attachment matters. The emotional attunement established in those early years between child and parent is crucial to the child's lifelong mental, physical and emotional health. The video below captures beautifully the origins of attachment theory and why it remains important today.
In today's parenting culture, there is so much competition. Focusing on attachment takes us back to the core of what is important with parenting–the relationship between parent and child. Ultimately, parenting shouldn't be about a lot of rules or perfect solutions or competition to be a better parent than our neighbor. Parenting is about relationships. If we keep this front and center in our daily interactions, then attachment security and all its benefits will undoubtedly fall into place.
Related Resources:
Find it on Amazon