Last Updated on
{We often think of summer as baby season but are more babies really born during the summer? A little science (and fun) about summer babies}
Spring is here and the countdown to summer is on. For my household summer means no rushed mornings getting to the bus stop and a lot of time enjoying the outdoors. It also means a lot of celebrations–birthdays, Father's Day, and Independence Day. I have noticed that I usually also have a lot of friends that have babies in the summer months. Have you noticed that too?
It turns out there is some research to support this observation. The highest rates of birth tend to happen in July, August and early September. Most researchers think this is because romance is more likely in those cold, short days of winter.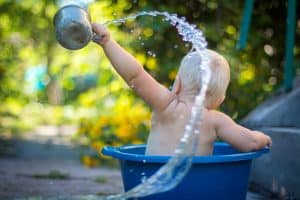 *This post contains affiliate links. I receive a small commission (at no added cost to you) when you purchase through these links.
When you think about it, however there could also be an evolutionary reason for this bump (pun intended) in summer births. Back in our ancestral hunter-gatherer days, it would have made the most sense to have babies in the summer or early fall when there was a more plentiful supply of food. Maybe there is some hormonal remnant of those days still left floating around in our bodies.
With this summer baby bonanza coming up, I like to keep in mind some ideas for baby gifts. If you have a child, you know that baby gifts are a wonderful treat for new parents. For first-time parents especially, the cost to set up a nursery can get expensive, so it's nice to have a few items from friends and family to help out. When I am looking for baby gifts I often try to find something meaningful and perhaps a little unique that the new parents might not be receiving from someone else.
Related reading: Best Advice for New Parents: Lead with Your Heart
For a few friends, I've given the Baby Quote Book, which is a nice way to keep track of all those cute phrases your toddler or young child will inevitably say at some point. In the age of technology, we often try to catch these phrases on video, but good "old fashioned" pen and paper really work well for all those times your little comedian won't perform on demand.
I also really like giving Personalized Alphabet Books. Preschoolers beginning to identify letters often love to learn about the letter that begins their name. In the case of my son, this was one of the first letters he learned, simply because it started his name.
These books are personalized on the front cover with the name of your child (or gift recipient). The illustrations are wonderfully colorful and whimsical. A wonderful gift that any new parent can read to their child from a very early age.
Traditional Baby Toys
Perfect for Pinning: